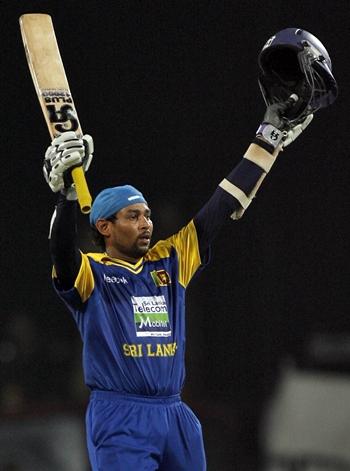 Sri Lanka opener Tillakaratne Dilshan, who scored a match-winning 123 in the second ODI against India in Nagpur on Friday, says opening the batting has done wonders for him.
"Opening has certainly helped me. I have got ten centuries. I have changed my mindset and started converting my 30s and 40s into big scores," he said, after setting up the three-wicket victory for Sri Lanka.
Dilshan said after the disappointing three-run loss in the first game at Rajkot, his team had to take some chances to win the second encounter of the five-match series.
"We had to take our chances and Angelo Mathews (37 not out) made sure we did not go down," he said.
Sri Lanka team manager Brendon Kuruppu said the fitness of Mathews, who used a runner late in his innings, can be assessed only after 24 hours.
"We don't know exactly what has happened to him. We have to wait for 24 hours before deciding the course of action," Kuruppu said.
All-rounder Mathews hurt his leg while taking a run.