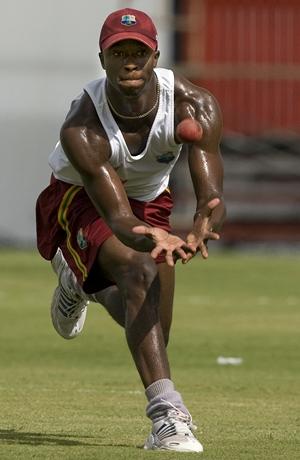 In a bid to secure the services of West Indies bowler Kemar Roach for next season's KFC Twenty20 Big Bash, Queensland have held secret talks with the player.
Having announced Daniel Vettori as their guest player for this year's campaign, the Bulls are now targeting Roach to spearhead their assault on the multi-million dollar Twenty20 Champions League for the 2010-2011 season.
Queensland have been in negotiations with Roach's management for the past three weeks, The Daily Telegraph reported.
The Bulls were keen to secure Roach for this year's Big Bash series but turned their attention to Vettori when the West Indies Cricket Board expressed concerns about the paceman's workload.
The 21-year-old rocked the Australia top order this summer with thunderbolts in excess of 150km/h.
Queensland chief executive Graham Dixon confirmed the Bulls' interest in Roach.
"We've been talking to Roach for some time now. The definite feedback we've got from his manager, as recently as (Wednesday), is that Roach wants to play for us. Our talks heated up in Adelaide (during the second Test three weeks ago) and we had to wait for the Test to finish in Perth," Dixon said.
"By then Kemar had some wear and tear and the WICB had some concerns about his body and we understand that. As a young guy, they want him for 10 years," he said.
"Unfortunately, with the niggling injuries he's had, we couldn't get the clearance from the West Indies for him to come for even part of the tournament, so we went back to Daniel Vettori. This time it hasn''t worked out but we'll see how we are placed next summer," Dixon said.
(ANI)