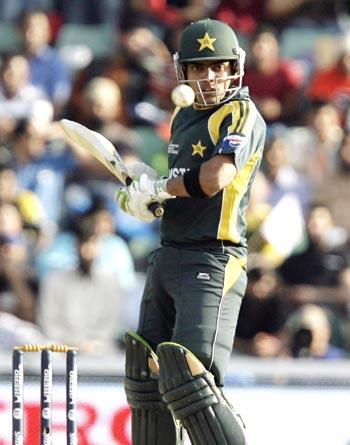 Umar Akmal's brilliance as a batsman and Mohammad Aamer's post-tea burst with the ball against Australia in the Melbourne Test suggests that the future of Pakistan cricket is in safe hands notwithstanding the controversies that have afflicted it, feels noted cricket columnist Peter Roebuck.
Akmal and Aamer, both teenagers, were at their dazzling best on the second day of the Test.
"Umar Akmal's batting in the opening hour was as dazzling. Sometimes, you know something special has happened, someone special has arrived on the scene. It was that sort of moment. In terms of excitement, Mohammad Aamer's post-tea burst was not far behind. A lot more will be heard from these fellows," Roebuck writes in a syndicated column for the Sydney Morning Herald.
Umar is being hailed as Pakistan's next great batsman following his performances in New Zealand and now in Australia.
In three Tests, Umar has scored one century and three 50s. He has caught the eye as a compact young batsman with a sound technique and plenty of pluck.
"Apparently, he developed his game in a 20-foot hollow where he practised with as many of his six brothers - all sons of a developer of photographs - as were available. Not that he bypassed the official route. He was sent to the national academy only to be ditched for not taking things seriously enough. It took an appeal from Kamran, his older brother to get him reinstated," says Roebuck.
Roebuck describes Aamer too as a breath of fresh air.
"His spirit could not be missed as he resisted the hosts for 142 minutes and again as he hurled himself at the home batsmen in a last-ditch attempt to bowl his team back into the match.
"Nothing was held back as he tried to shake up the batsmen with his thunderbolts. Shane Watson in particular incurred his wrath. Something about Watson, a splendid cricketer, provokes bowlers. Ricky Ponting and Mike Hussey did not survive Aamer's fury. It was cracking cricket, and exactly what the series needed. If nothing else, the Australians know they have been in a contest," Roebuck concludes.