- Scorecard: India vs Australia, 5th ODI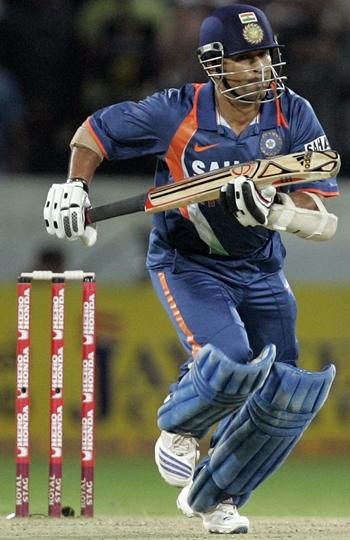 A superlative 175 by Sachin Tendulkar was, in the end, not enough to help India score a come-from-behind victory over Australia in the fifth One-Day International in Hyderabad on Thursday.
The never-say-die-attitude of the men from Down Under ensured that they hung on to secure a three-run victory and take a 3-2 lead in the seven-match series.
India were all out for 347, with two balls to spare. It was Australia's 60th win over India.
The chase, had it materialized, would have been India's most successful in one-day internationals, surpassing the 327 they chased to beat England in the NatWest Trophy final in 2002.
The loss, on the other hand, meant that India's search for their maiden win at the Rajiv Gandhi International Stadium, a venue notorious as a graveyard for the hosts, a la Court No. 2 at Wimbledon (the graveyard of champions), continues.
When Team India is involved you can expect a lot of melodrama and a familiar result in tight match -- the team has two terrible habits, that of snatching defeat from the jaws of victory and also a tendency to raise false hopes, which eventually ends in despair.
Thursday was no different.
It was a masterful innings from the Master Blaster. His 141-ball knock was studded with 19 boundaries and four massive sixes.
Tendulkar, who was seen venting his frustration after catching Cameron White off the last ball of the Australian innings by smashing the ball into the ground, succeeded in channelising his anger into a performance that will be remembered for years to come.
But once he was dismissed, even just 19 runs from 17 balls (with three wickets in hand), seemed a mountain to climb.
Earlier, chasing a daunting 351 to win, India started by breaking bats.
Well, literally.
One of Sehwag's first shots damaged the bottom edge of his bat and he immediately requested for a change.
And the first ball he faced with the new bat, off Bollinger, was conveniently dispatched to the point boundary.
Tendulkar, needing just seven runs to cross the 17, 000-run mark in ODIs, began with a couple past the backward point region.
And it took him 12 more deliveries to reach the landmark, playing a Hilfenhaus delivery past square leg for three runs.
The monkey off his back, Tendulkar smashed Hilfenhaus to the mid-off boundary and Bollinger, first to the square leg fence and then to the backward point fence to ease pressure.
Bollinger, who bowled so well at Mohali, was given no time to settle down and received severe punishment.
His opening spell figures read a disappointing 4-0-37-0.
To make matters worse he dropped Sehwag at fine-leg off Hilfenhaus in the latter's fourth over and the batsman expressed his gratitude by smashing the ball to mid-wicket boundary.
However, there was redemption for Bollinger when he caught Sehwag at short fine-leg eventually off Hilfenhaus.
Sehwag's 30-ball 38 comprised five fours and a six and was yet another case of a good start going waste. He put on 66 for the opening wicket with Tendulkar in just 53 balls.
After 10 overs, India were 68 for one.
Tendulkar kept up the aggression, hitting Hilfenhaus over mid-wicket for four, shuffling debutant Clint McKay down the leg side for another result and hitting Watson over mid-off for the same result -- the boundaries coming in three successive overs.
However, Gautam Gambhir (8), back after missing the Mohali game, fell cheap. The left-hander hit straight to Hilfenhaus at third man to give McKay his first international wicket. India 92 for two after 13.3 overs.
Tendulkar, joined at the crease by Yuvraj Singh (9), soon completed his 92nd ODI half-century with a single to third man off Watson.
Nathan Hauritz was introduced into the attack soon after the drinks break and his first over cost him 11, with both Yuvraj and Tendulkar helping themselves with boundaries.
The duo added 34 for the third wicket. However, when Yuvraj offered Watson a simple return catch, India were reduced to 126 for three.
It was a soft dismissal and came at a time when India could ill-afford it.
Tendulkar kept the flag flying at one end though. The Master Blaster first pulled Watson for a maximum over the mid-wicket boundary and, in the following over, hit successive sixes of Hauritz, the first over the bowler and the second over long-off.
The crowd went into delirium. They couldn't be blamed though. They were watching the Master Blaster in full flow after quite some time.
However, captain M S Dhoni (6) didn't last long, out caught by Adam Voges off McKay.
Suresh Raina (59), dropped at slips by White off only the second legitimate delivery he faced, expressed his gratitude for the Australian faux pas a few overs later, smashing Watson over midwicket for the maximum and smashing the next delivery to the point boundary.
Three balls later, Tendulkar reached his second landmark of the day with a single down to third man.
The 36-year-old's 45th one-day hundred was a superlative effort to say the least. He raced to 150 in double quick time.
And that, in turn, inspired Raina.
The left-hander, who got a second lease of life in the 31st over bowled by Hauritz when Ponting dropped a sharp chance at short extra cover, responded by hoisting the next ball over long on for another maximum.
After 40 overs, India were 276 for four, needing 75 runs from the last 10 overs.
The duo put on 137 runs in just 114 balls for the fifth wicket and laid the foundation for what seemed an improbable win.
Raina brought up his half-century in style, smashing McKay over the midwicket fence for the maximum, his third of the innings. Two balls later, he guided the ball over the short square-leg fielder and into the fence.
Raina's run-a-ball 59 comprised three boundaries and three sixes each.
However, he got a bit carried away and skied a Watson delivery, and Manou made no mistake.
Two balls later, the Watson-Manou combine accounted for Harbhajan Singh (0).
After 43 overs India were suddenly on the back foot again at 300 for six.
Ravindra Jadeja (23) joined the party with some lusty hitting.
And by the time Tendulkar departed, caught by Hauritz off McKay, only 18 was required.
However, as is always the case, panic set it within the team.
Jadeja ran himself out and Ashish Nehra (1) hit straight to Michael Hussey at long on to ensure India make the proceedings further melodramatic.
Praveen Kumar (9) hit Bollinger over long-off for the maximum to bring India further close. But he ran himself out with two balls remaining to end India's hopes.
AUSTRALIA
A maiden One-Day International hundred by opener Shaun Marsh (112), and two crucial partnerships with fellow-opener Shane Watson (93) and captain Ricky Ponting (45), saw Australia post a formidable 350 for four in the fifth ODI against India at the Rajiv Gandhi International Stadium in Hyderabad on Thursday.
Australia's coach Tim Nielsen had said on the eve of the match that the team batting first would be under pressure to post a sound total. His team displayed controlled aggression and certainly rose to the occasion.
Buoyed by a solid 145-run opening partnership, Australia carried on the momentum to post a daunting total. Cameron White (57, 2x4, 5x6) and Michael Hussey (31 not out, 1x4, 2x6) ensured India have a mountain to climb when they come out to bat by putting on 80 runs for the fourth wicket off just 43 balls, with 58 coming off the last five overs.
Earlier, the visitors, after winning the toss and electing to bat, made a cautious start but stepped up the accelerator soon after to get into a commanding position, at 97 without loss, after the two opening Power Plays.
The caution was back after the field restrictions were done away with, but, on this occasion, it was accompanied by controlled aggression.
The lacunae in the Indian bowling, in Zaheer Khan's absence, lay exposed yet again. After the seamers disappointed with a lackluster display, the spinners -- Harbhajan Singh, Ravindra Jadeja and Yuvraj Singh – also failed to make the breakthrough. Captain Dhoni's defence of his bowlers a day earlier seemed very much like a Bollywood producer defending his pathetic movie.
However, to give credit where it is due, the spinners did stem the flow of runs to an extent. From the 20th over till the third ball of the 33rd -- when Ponting smashed Yuvraj through extra cover -- the visitors did not score a boundary (for 80 balls, to be precise).
Yuvraj, in his third over, dropped a difficult return catch from Watson when the Australian was on 90, but the Aussie opener was dismissed soon after.
Watson, whose belligerent innings had nine hits to the fence and three huge ones over it, went for a big slog-sweep off Harbhajan in the 26th over and only succeeded in finding Jadeja at deep mid-wicket.
Ponting joined Marsh and made sure that Australia did not surrender the early ascendancy. In fact, he surprised to an extent by taking the batting Power Play as early as the 35th over. Australian captain's motive was clear. He wanted to consolidate the solid advantage that the openers had given the side.
Ponting, himself needing only 25 to complete 2000 runs against India, not only attained the feat but also ensured his rich vein of form continued with his run-ball knock, which was studded with three hits to the fence and one over it.
But having smashed Praveen Kumar for a huge six over square leg, he went for a pull two balls later and was deceived by the change of pace and saw his stumps rattled.
His second-wicket partnership with Marsh had yielded 91 runs, off just 85 balls, and put Australia were well on course for a huge total.
Then Marsh, playing second fiddle for much of the innings, cut loose and soon completed his maiden one-day hundred, his first major score since the 78 against South Africa in January.
The southpaw finally fell to Nehra, thanks to a splendid catch by Gautam Gambhir at long-on.
Marsh's superlative innings was a run-a-ball affair, a la Ponting, and comprised eight boundaries and two huge sixes, one each of Harbhajan and Nehra.
Cameron White hit a flurry of sixes, including successive ones off Jadeja, to reach his fifth ODI fifty off just 31 balls and ensure India have a tough task ahead of them.
The in-form Michael Hussey too joined the party, smashing Nehra over the square-leg boundary for the maximum, followed by an inside-out boundary over extra cover. He went on to smash a Munaf delivery over the mid-wicket fence for another maximum.
The Australians created a record for the maximum number of sixes hit against India in India, clearing the fence on no less than 13 occasions.
And by the time White was caught by Sachin Tendulkar at sweeper cover off the final ball of the innings, the disgust on the Little Master's face said it all.
To put it bluntly, the home team's not-so-enviable record of having never won a match on this ground looks set to continue for some more time.
--
Earlier, Australia won the toss and captain Ricky Ponting had no hesitation in opting to bat first. The visitors had three changes, a couple of them forced, in their team owing to their many injuries.
So Adam Voges, Ben Hilfenhaus and Clint McKay made their way into the squad in place of the injured duo of Peter Siddle and Moises Henriques and the rested Mitchell Johnson.
The Indian team also had a couple of changes, with Munaf Patel coming in place of Ishant Sharma (rested) and a fit-again Gautam Gambhir replaced Virat Kohli .
Teams:
India: Mahendra Singh Dhoni (captain), Virender Sehwag, Sachin Tendulkar, Yuvraj Singh, Gautam Gambhir, Suresh Raina, Ravindra Jadeja, Harbhajan Singh, Ashish Nehra, Praveen Kumar, Munaf Patel.
Australia: Ricky Ponting (captain), Mike Hussey, Cameron White, Shane Watson, Shaun Marsh, Adam Voges, Graham Manou, Nathan Hauritz, Doug Bollinger, Ben Hilfenhaus, Clint McKay.