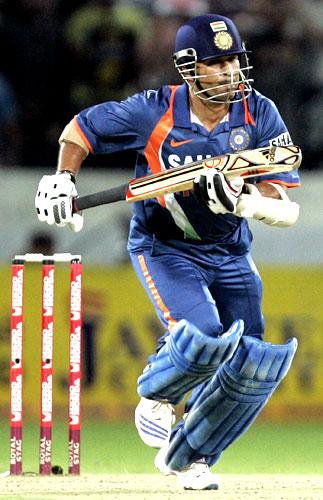 Sachin Tendulkar's magnificent 175-run knock against Australia on Thursday was not just his greatest ODI innings but also one of the best in international cricket, feels chairman of selectors K Srikkanth.
Lavishing praise on the veteran right-hander, Srikkanth said despite ending up on the losing side Tendulkar showed just why he is considered the greatest batsman in the world right now.
"Certainly one of the best ODI knocks I have seen in quite a few years. It's Sachin's greatest knock. I remember Kapil Dev's 175 against Zimbabwe in the 1983 World Cup and it would be at par with that," Srikkanth said.
However, the former player felt that despite the marvellous innings Tendulkar must have been be a disappointed man as India lost the match by just three runs.
"I feel bad for him. The whole of India must be feeling bad for him. But look at the passion he has got. He has got all the records but he still has the hunger, the passion. This is something that the youngsters can learn from him," he said.
"Chasing 350 is no joke but he almost won the match single-handedly. He always had the talent but he has also got the mental balance that is required," Srikkanth told NDTV.
In Tendulkar's wide range of shots, Srikkanth felt three strokes stand out for the sheer class with which the Indian executes them.
"Backfoot cover drive is something he plays with ease, then the straight drive is so cleanly hit that it goes like a bullet. And the third one is the on-drive, which is the most difficult cricketing shot, but he can place it wherever he wants it from mid-on to square leg," he said.
Srikkanth said he is now looking forward to a Tendulkar special in the 2011 World Cup.
"I am looking forward to it. I'm sure he is looking forward to it too. He wants to win the 2011 for India and that's why he is continuing," he added.