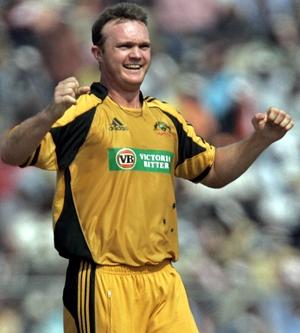 For someone who wasn't even a first choice for his team on the tour of India, Doug Bollinger has achieved a lot. Perhaps, it would be apt to say that the Australian has grabbed the chances that came his way with both hands.
Injuries to strike bowlers like Brett Lee -- after the first match in Baroda, Nathan Bracken -- even before the tour began, and, subsequently, Peter Siddle, meant Australia would be playing India with a depleted side. All the pressure was on Mitchell Johnson. To put it bluntly, he struggled early on, and it was only after he was rested/dropped for the Hyderabad ODI that he came back and bowled with some rhythm in Guwahati.
And since Ben Hilfenhaus, too, failed to impress, the Australian think-tank was forced to call upon Bollinger to shoulder responsibility.
The 28-year-old had hitherto featured only in a couple of one-dayers, but his five for 35 against Pakistan at Abu Dhabi in May -- in what was only his second match -- an effort that earned him his first man-of-the-match award, had given the management enough confidence in his abilities.
In the first match he played in the ongoing series -- the third ODI at the Ferozeshah Kotla -- Bollinger bowled a tight line (10-0-26-0) but failed to take wickets. Australia went on to lose that game.
However, the anomaly was rectified in the next match in Mohali and the final column in his bowling analysis (9-2-38-3) displayed an impressive three wickets on a track conducive to batting. His effort helped Australia square the series.
Bollinger did not win the match of the match award for the impressive showing though; Shane Watson did, though many opined he would have been a better choice.
The man himself wasn't complaining.
"You have to go behind your teammates at times and make sure all of them do well as a unit," he said.
But it wasn't that his efforts went unnoticed.
"Doug has showed his mettle," observed Tim Nielsen, Australia's coach, adding, "he bowled beautifully and took crucial wickets for us in Mohali."
The next match at Hyderabad was a forgettable affair; the Indian batsmen went after him on a flat track and Bollinger was expensive (10-0-75-1). Australia, however, won it to take a 3-2 lead going into the sixth one-dayer at Guwahati.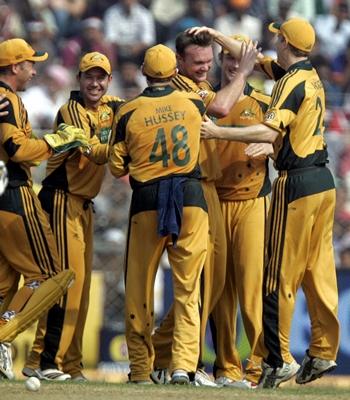 And it was at the Nehru stadium, in the Assamese capital, that the left-armer really came into his own. Combining well with a rejuvenated Johnson, Bollinger ensured Team India was reduced to 27 for five by the ninth over, an early collapse that virtually sealed the match for the visitors. 
"I just went out there and had a crack," said Bollinger, nonchalantly, while describing his effort.
"I kept thinking how to keep things tight and alter them as much as I could."
The opening spell earned him two wickets and he went to add three more scalps to finish with impressive figures of 10-4-35-5.
This time there was no doubt about who would win the man-of-the-match trophy.
Besides, there was the morale-boosting appreciation from his captain.
"He has really stepped up when we have needed someone to step up for the loss of our more experienced bowlers," said Ricky Ponting, lauding Bollinger's efforts.
"You always hope guys like him will have that sort of impact on a series. Doug bowled beautifully with every chance he has had.
"He was the pick of our bowlers in Delhi, and to get five wickets [at Guwahati] on a strip that didn't really offer much for the fast bowlers other than a bit of swing early on is a terrific reward."
However, instead of flying high after his achievements in this series, Bollinger remains composed.
"This series has been a great stepping stone for me, a good learning experience," he said, before adding, "I am really happy with my efforts."
Now that he has made his mark, it wouldn't be surprising to see him as a first choice bowling option for Australia.
"He has so far got limited opportunities, but, on the positive side, he has taken all the opportunities that he got," admitted Nielsen.
And in case he does get to play more frequently, Bollinger has a simple mantra for what needs to be done:
"Just do your best!"