- Scorecard: Australia vs India, 3rd ODI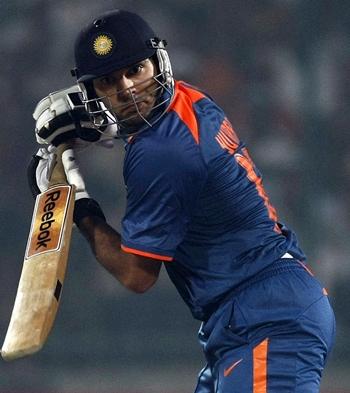 Mahendra Singh Dhoni showed why he is the top batsman in one-dayers as he played a stellar role for the second match in succession to help India register a convincing six-wicket win over Australia in the third One-Day International at the Ferozshah Kotla, in New Delhi, on Saturday.
Dhoni had smashed his way to a blazing century in the previous match at Nagpur, and when it came to grafting and working hard for runs on a difficult pitch he did not let his team down.
India's captain came up with a responsible knock of 71 from 95 deliveries, inclusive of six boundaries, adding 148 runs in 172 deliveries for the fourth wicket with Yuvraj Singh, who scored a quick 78 from 96 deliveries, including hit eight boundaries and two sixes, as the team cruised home.
India finished with 230 for four in 48.2 overs to take a well-deserved 2-1 lead in the seven-match series after Australia, electing to bat first, were restricted to 229 for five.
Earlier, Michael Hussey drew on all his experience to score an unbeaten 81 and guide Australia to a competitive total.
With injuries depleting his team, captain Ricky Ponting opened the innings and did well to score a cautious 59 from 92 deliveries on a pitch that got increasingly difficult with every passing over. He was involved in a 72-run partnership for the opening wicket with Shane Watson, who scored a brisk 41 from 59 deliveries.
All-rounder Ravindra Jadeja underlined his utility with the ball, taking two wickets for 41 runs in his nine overs, while Harbhajan Singh took one for 37 in ten overs.
AUSTRALIA:
With Tim Paine returning home and Shaun Marsh left out, Ponting was promoted as opener, a role he performed just once before. He had opened the innings exactly ten years ago, and scored 87 not out, against Zimbabwe at Harare on October 24, 1999.
The two teams, squaring off against each other in ODIs for the 100th time, observed a minute's silence before the start of the match for English umpire David Shepherd, who passed away earlier this week.
Electing to bat first, Watson and Ponting both seemed content to play the waiting game, knowing well enough that going for a big score would not be a sensible approach. The former bagged his first boundary off the last ball of the first over against Kumar, while Ponting got one through the covers in the next over by Ashish Nehra.
Ponting seemed in good touch as he pulled Nehra through mid-wicket for his second boundary in the eighth over.
Kumar bowled a tight first spell of ten runs in four overs before giving way to local favourite Ishant Sharma. The lanky pacer was driven straight down the ground by Ponting for a boundary as Australia started to push the scoring after a quiet start.
India introduced spin as early as the 11th over when left-arm spinner Ravindra Jadeja replaced Ishant, who bowled just one over before changing ends. Australia took advantage of the fielding restrictions and Watson drove him through the mid-wicket for a boundary to get 10 runs from Jadeja's opening over.
Jadeja got a fair amount of help and had the odd one turn sharply, but Australia's openers negotiated him quite well to reach 69 for no loss after 15 overs.
Ishant and Jadeja proved expensive, giving away 17 and 18 runs respectively in their first three overs before the former was replaced by Harbhajan Singh.
It was Yuvraj Singh's golden arm that finally did the trick for India.
Part-timer Yuvraj struck in his first over, having Watson stumped courtesy a brilliant piece of glovework by Mahendra Singh Dhoni.
The Aussie opener scored a sedate 41 from 59 deliveries, inclusive of five boundaries, adding 72 runs in 98 deliveries for the opening wicket with Ponting to give his team a solid platform. (72-1, 16,2)
Gautam Gambhir was forced to leave the field with a blow on the back of his neck when Ponting pulled a short delivery straight into him off Harbhajan in the 18th over.
Ponting dropped anchor and was content to play the spinners with a bit of caution as Australia crossed the 100-run mark in the 25th over.
Australia's captain completed his half-century off 74 deliveries with a single to the point region in the 26th over by Harbhajan.
Even though the pitch was offering a fair bit of assistance, Harbhajan failed to live up to his billing. He kept the runs down in his first spell but failed to pick a wicket while going for 26 runs in seven overs.
Yuvraj impressed with the ball, claiming one for 22 in his seven overs, and troubled the batsmen quite a few times with his flight.
Ponting was unbeaten on 56 from 28 deliveries and Michael Hussey on 24 from 33 deliveries as Australia reached 122 for one after 30 overs.
Jadeja claimed a big wicket in his second spell, when he trapped Ponting for 59 off 92 deliveries, inclusive of four boundaries. The Australia captain tried to play a full delivery across the line but missed it and was struck right in front of the stumps. (128-2, 31.1)
Australia's two most experienced batsmen, Ponting and Hussey, struggled to come to terms with the turning wicket. Their second wicket partnership yielded 56 runs in 89 deliveries without a single boundary as the Indian spinners started to take control.
Suresh Raina struck in his first over, claiming the wicket of Cameron White for a duck, caught behind off an inside edge. (129-3, 32.4)
The last five overs turned the game on its head as Australia lost two wickets for the addition of just 18 runs. In fact, there was not a single boundary for the last 20 overs as Australia struggled to 132 for three after 34.
Adam Voges finally broke the shackles somewhat when he played the paddle sweep against Jadeja for a boundary, Australia's first after nearly 22 overs.
Hussey also opened his boundary count off the 47th delivery he faced, hitting Raina through the covers where Sehwag misfielded. The left-hander then bagged another one in the next over when he used the reverse sweep against Yuvraj to move to 47 from 52 deliveries.
Voges decided it was time to make a move on as he looked to attack Harbhajan but that eventually caused his downfall. The right-hander came down the track and hit one straight to Kumar at the midwicket boundary after scoring 17 from 31 deliveries. (172-4, 41.5)
Harbhajan then got one to bounce sharply in his final over, giving clear indications that the pitch is getting increasingly difficult for batting and the spinners obtaining more and more help with every passing over.
With just five overs remaining, Australia had no option but to take the Batting Powerplay, with the scoreboard reading 193 for four after 45 overs.
Debutant Moises Henriques could not reproduce his batting display from the Champions League, where he played some blazing knocks. The right-hander made 12 from 17 deliveries before he was bowled off an inside edge, attempting a big shot through the off-side against Jadeja. (200-5, 46.3)
The boundaries were difficult, even in the Powerplays, with the ball doing all kinds of tricks. Hussey pulled a short delivery from Nehra through midwicket for a boundary, the first after ten overs, as the Indian bowlers looked to keep the runs at a minimum in the final few overs.
Just 13 runs came from the first three overs of Powerplay before Dhoni gambled by handing the 49th over to Raina. Mitchell Johnson brought some relief when he slammed Raina for a six over midwicket for 11 runs in the penultimate over.
Hussey then stepped down the wicket and carted Nehra for a huge six over long-on off the first delivery of the final over. He finished unbeaten on a fine innings of 80 from 81 deliveries, inclusive of three boundaries and a six, to take Australia to a healthy 229 for five in their 50 overs.
The interesting part of Hussey's knock was the number of singles that he took. He ran 49 singles and seven twos to keep the scoreboard ticking in the middle overs, thereby ensuring that the amount of dot balls were reduced.
The five overs of Poweplay fetched 36 runs for the loss of one wicket out of which 22 came in the final two overs.
INDIA
Sachin Tendulkar got off the blocks in style, hitting Johnson for two boundaries in the first over of the innings. He drove the first one on the up through the covers and three deliveries later flicked a full delivery through square leg as India got 12 runs from the first over.
While Tendulkar raced to 18 from as many deliveries, Sehwag was unable to get moving in the initial overs, scoring five from 11 deliveries, as India reached 24 for no loss after five overs.
Sehwag was struck on his foot by a quick full delivery from Peter Siddle in the eighth over. But the next delivery he faced was a short one from Johnson, which he smashed through point for a boundary, his first in 22 deliveries.
But Johnson had his revenge soon after when he bowled the batsman with an incoming delivery. Without any real footwork, Sehwag tried to play across the line and was beaten all ends up and dismissed for 11 from 25 deliveries. (37-1, 8.5)
Gautam Gambhir shrugged off the painful blow he received earlier in the day and walked in to bat at number three to a huge cheer from his home fans.
Tendulkar was unbeaten on 25 from 34 deliveries as India reached 39 for one after ten overs.
Tendulkar looked quite comfortable till he threw his wicket away with a needless run-out. The veteran batsman scored 32 from 47 deliveries before he attempted a quick run but Johnson at mid-off caught him short with a direct hit. (51-2, 13.3)
Australia introduced spin in the 15th over and the move paid off immediately. Off-spinner Nathan Hauritz needed just two deliveries before claiming the wicket of Gambhir for 6. He got one to turn sharply -- the ball pitched around middle stump and went past Gambhir's bat and crashed into his off-stump. (53-3, 15.2)
The boundaries dried up as the pitch kept getting slower and lower. Yuvraj and Dhoni were content in playing out the overs, trying to get used to the wicket.
Yuvraj hit only the fourth boundary off the innings, the first after a gap of 11 overs, when he swept Hauritz fine through the leg side as India reached 76 for three after ten overs.
The left-hander seemed to have found the measure of the conditions as he flicked Henriques through midwicket for another boundary in the next over.
Dhoni and Yuvraj proved that once a batsman got his eye in it was not as difficult as many thought it would be. The duo dealt mostly in singles, yet brought up their 50-run partnership in no time -- off 62 deliveries in the 25th over -- to repair the innings after the loss of a few quick wickets.
Hauritz was hit for a boundary each by both batsmen in the 26th over as India's run chase started gathering momentum. Despite picking a wicket in his first over, Hauritz struggled to make an impact, giving away 37 runs in his six overs, while at the other end left-arm pacer Doug Bollinger kept things tight, giving away just 17 runs in seven overs.
After 30 overs, India looked good on 128 for three, needing another 102 runs from the last 20 overs with seven wickets still in hand.
Yuvraj then decided it was time to attack debutant Henriques. He flicked a full delivery over wide long-on for the first six of the Indian innings and followed it up with a boundary two deliveries later.
Part-timer Voges also suffered in his next over as Yuvraj repeated the dose. He pulled a short delivery from the left-arm spinner over midwicket for a huge six, which also brought up the 100-run partnership for the fourth wicket. The next delivery was driven through the covers for a boundary. That four also brought up Yuvraj's half-century off just 59 deliveres, inclusive of four boundaries and two sixes.
With Yuvraj looking to attack, Australia were slowly losing their grip on the game. India reached a comfortable 160 for three after 35 overs, needing 70 from the last 15 overs.
Even though India had not taken the Powerplay, there was no stopping Yuvraj. With the bowlers looking clueless, the left-hander suddenly changed gears and looked to attack them.
Once again Henriques suffered as Yuvraj hit him for back-to-back boundaries, The first one was despatched in some style through the cover region and the next one was slammed straight back past the bowler as India progressed to 171 for three after 37 overs.
While Yuvraj was going after the bowlers, at the other end Dhoni was content to play second fiddle as he concentrated mostly on rotating the strike.
After 40 overs, India were comfortably placed at 185 for three, with 45 needed from the last ten.
Captain Dhoni completed his half-century off 81 deliveries, with two boundaries, in the 44th over. But there was no stopping who cracked Henriques through the cover for a boundary as India crossed the 200-run mark in the 44th over.
But it was Henriques who gave Australia a glimmer of a hope when he got the big wicket of Yuvraj. The left-hander was trapped leg before wicket as he attempted to play on the leg side after a fine knock of 78 off 96 deliveries, having hit eight boundaries and two sixes. (201-4, 44)
India were in trouble having lost Gambhir and Tendulkar in quick succession but both Yuvraj and Dhoni played out of their skins on a difficult wicket. Yuvraj was involved in a 148-run partnership in 173 deliveries for the fourth wicket with Dhoni, who was unbeaten on 50 as India got closer to the target.
India reached 202 for five, needing 28 from the last five overs, before the Batting Powerplay was taken.
With the fielding restrictions in place, Dhoni made most of it by thumping Siddle for a powerful boundary straight back past him in the 46th over.
Johnson was not spared either as Dhoni hit him for a couple of boundaries through the off-side in the 47th over.
Suresh Raina hit the winning runs when he played one fine on the leg side which was misfielded and went to the boundary.
Dhoni finished unbeaten on a wonderful innings of 71 from 95 deliveries, inclusive of six boundaries, to carry his team home to an easy six-wicket victory.
Australia's bowlers were found wanting on a pitch that got slower and lower once Dhoni and Yuvraj took control in the middle overs. They also didn't help their team's cause, bowling as many as 14 wides and one no-ball.
India have taken a deserved 2-1 lead in the seven-match series. The fourth match will be played in Mohali, on Monday, November 2.