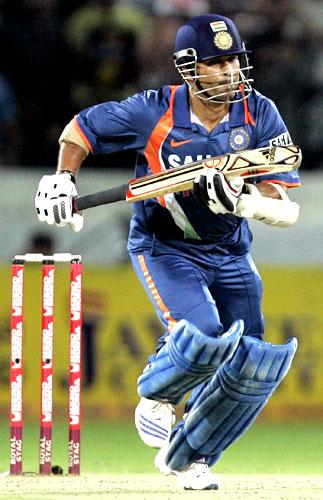 Visiting Australia Prime Minister Kevin Rudd doffed his hat at batting ace Sachin Tendulkar on becoming the first cricketer to score 17,000 runs in One-day cricket.
"I congratulate Sachin Tendulkar on achieving the outstanding milestone of 17,000 One-day International runs," Rudd said while addressing an India business lunch in Delhi on Thursday.
Incidentally, Tendulkar reached the milestone during the just-concluded ODI series against Australia.
Rudd conveyed the respect Tendulkar commands in Australia and said, "From one cricket-mad nation to another, we salute the 'Little Master'.
"I'm advised his young team-mate Yuvraj Singh has started calling the 36-year-old grandfather. Where that places a 52-year-old like me, I'm not sure," Rudd quipped.
"And, may I say on behalf of all Australian cricket fans that if Sachin does decide it is time to retire, we would support him wholeheartedly," he said, tongue-in-cheek.
"Of course, there is more to life than cricket," Rudd added.
The Australian prime minister said he would have loved to be in Mumbai for the seventh and final India-Australia ODI, which was washed out.
He said India and Australia are similar in their love for cricket and also shared his dabble with the game.
"You will be surprised to learn that I have played against India before -- as a member of the Australian embassy team in Beijing against the Indian embassy team. My highest score was 11 not out," he said.