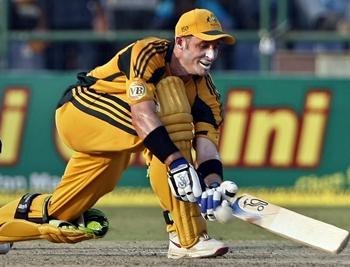 Shane Watson may have walked away with the man-of-the-series honours in the just-concluded Hero Honda Cup, but one name that must definitely have crossed the adjudicators' mind is that of Michael Hussey.
For, if it was Watson who started brilliantly while batting and finished as well while bowling, it was Hussey who gave Australia's batting the solidity and impetus it required in the middle of the innings.
And, if consistency is a barometer by which a batsman is judged, then Hussey outshone each of his teammates.
A series of good scores -- that read 73, 53, 81 not out, 40, 31 not out and 35 not out --  ensured the left-hander, compared by many with former Australia all-rounder Michael Bevan, finished the series with an aggregate of 313 runs in six games (@ 104.33), the highest on either side.
The above scores are not only substantial in volume, but also in quality; the manner in which each of them came reflected Hussey's adaptability to any kind of situation.
The 34-year-old, whose form had dipped to such an extent a couple of months back [during the Ashes] that there were calls for him being dropped from the Australian squad altogether, answered his critics with slew of good efforts with the bat.
The turnaround, that started in the final two one-dayers of the seven-match series against England -- when he scored of 65 at Trent Bridge and 49 at the Riverside -- and carried on to the Champions Trophy -- where he scored 67 against India and 64 against Pakistan in successive matches -- peaked in the bilateral series against India.
Ask him what prompted the turnaround and he surprises by saying he never felt he was in poor form, to begin with.
"Personally, I haven't worried about my form much," he says. "I have been hitting around well at the nets and even in the middle [in a match], but sometimes in cricket you can find ways for getting out, or the game can find ways to get you out," he adds, with a tinge of philosophy thrown in for good measure.
However, his change of form was far more spectacular that his explanation for the same. Unconvinced, you prod further about his series of poor scores in the Ashes, and his recent substantial knocks, and Hussey comes up with an answer that isn't elaborate, but certainly pertinent.
"I just stuck around with the same preparation and the way I approach the game," he says, adding, "I knew the runs would come."
Hussey, who made his one-day debut against India in 2004, has since posted an impressive record against the Men in Blue in the shorter form of the game.
His 584 runs in 14 innings, including five half-centuries, indicate that he has enjoyed playing against the Indian bowlers. More importantly, Team India has not been able to dismiss Hussey in six of those 14 innings.
When you point out these figures to M S Dhoni, India's captain offers an explanation.
"He (Hussey) bats safe early on, gets off to a good start and then works his way up the strike rate," reasons Dhoni, admitting that the left-hander has been the stand-out for the tourists.
"If someone is playing so good, you can't do much. He (Hussey) is an asset to any middle order and he has shown his worth in the Australian team in this series."
Asset to the Australian team he certainly is, and that's why they call him 'Mr Cricket!'