Just before the ICC Champions Trophy, it looked likely that India would be the world's best team in One-Day Internationals. But by failing to even qualify for the semi-finals, and now losing the home ODI series to Australia, the Indian dream has ended.
India (59.71) are still second, and a whisker ahead of South Africa (59.43) in the Rediff ODI rankings, but expect them to drop to the third place quite soon. They are not looking like winners any more.
New Zealand (54.86) got valuable points after defeating Pakistan (41.78) 2-1 in a three-match series in Abu Dhabi. How Pakistan, with all that talent, manage to lose so often is another enduring mystery of our times!
But there is no mystery about Australia's deep resolve. If Ricky Ponting's second string team can defeat a strong Indian team in their own backyard, Australia (70.81) should feel confident about another long stint at the top of the table.
Bangladesh (28.40), meanwhile, are inching closer to the West Indies (28.74) after another big win against Zimbabwe. It helps that West Indian cricket is in turmoil, but Bangladesh are consistently playing good ODI cricket these days.
Table A shows the current ODI rankings: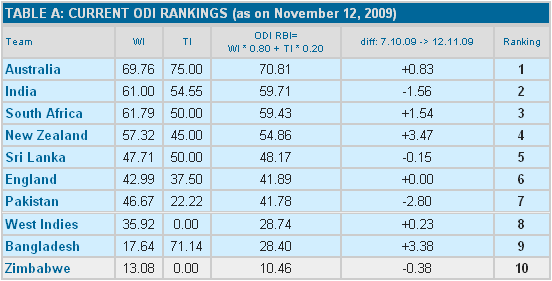 The corresponding Reliance Mobile ICC ODI rankings (as on November 12, 2009) are: Australia (130), South Africa (122), India (122), New Zealand (112), Pakistan (108), England (106), Sri Lanka (106), West Indies (76), Bangladesh (55) and Zimbabwe (26).
Details
The Rediff ODI rankings, now published regularly for almost eight years, is a judicious combination of every team's weighted index (WI) and tournament index (TI).
The WI, based on recent ODI encounters between every pair of teams as shown in Table B, is essentially a weighted average that considers the 'opposition strength' (because wins against strong opponents must be rewarded more) and the 'home-away-neutral' factors (because teams usually win more at home, and lose more playing 'away').
The TI factors in a team's performance in tournaments and series (and thereby seeks to better reward wins in 'big' matches). The TI is currently based on a time window spanning the last 12-13 months, i.e. November 2008 to November 2009.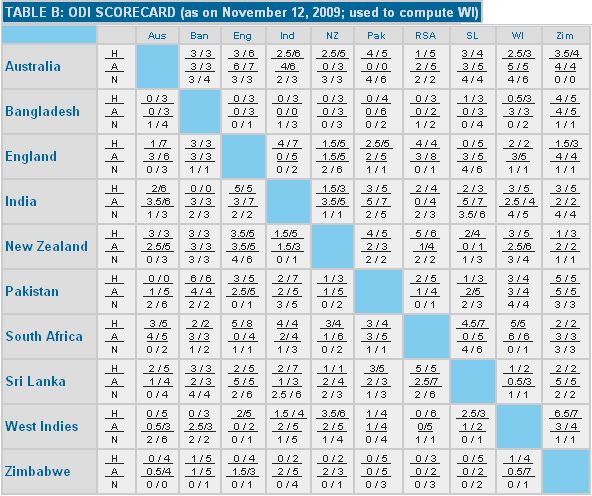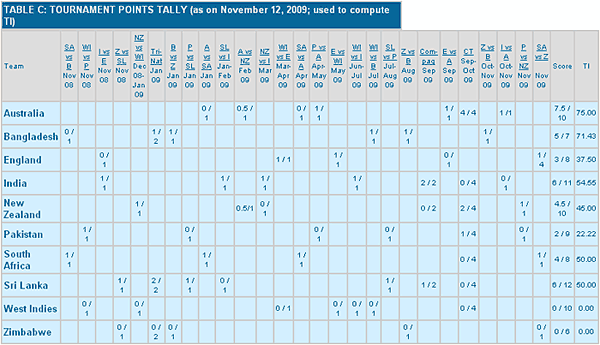 Our next update will appear after England's away series in South Africa and Sri Lanka's five-match series in India.