- Scorecard: India vs Sri Lanka, 1st Test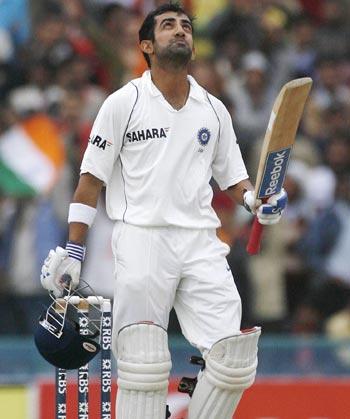 Centuries from Sachin Tendulkar and Gautam Gambhir helped India escape with a draw in the first Test against Sri Lanka, in Ahmedabad, on Friday.
India, in their second innings, amassed 412 for four in 129 overs after which both captains agreed to call off play. The hosts finished with a lead of 78 runs with six overs remaining on the fifth day.
Tendulkar, who completed 30,000 runs in international cricket during the course of his innings, went on to register his 43rd Test hunderd. He was unbeaten on 100 from 211 deliveries, inclusive of 11 boundaries. V V S Laxman was also unbeaten on 51 from 160 deliveries.
Earlier, Gambhir showed tremendous application to score 114 from 230 deliveries, inclusive of 13 boundaries, before he holed out to Dammika Prasad at mid-off, attempting a lofted shot against left-arm spinner Rangana Herath.
Night-watchman Amit Mishra was the first wicket to fall; he was brilliantly caught by Tillakaratne Dilshan at leg gully off Angelo Mathews after a valuable knock of 24 from 51 deliveries.
Sri Lanka had amassed a mammoth first innings score of 760 for 7 declared, courtesy a splendid 275 from Mahela Jayawardene, while Prasanna Jayawardene finished unbeaten on 154. The duo put on a world record partnership of 351 runs in 592 deliveries for the sixth wicket as they stayed at the crease for 97.3 overs.
It eclipsed the previous record of 346 runs, set by Australians Don Bradman and John Fingleton against England in 1937.
It is Sri Lanka's highest total on Indian soil, surpassing their previous best, 420, made in December 1986. It is also the highest total by any team on Indian soil, bettering the 676 for six that India put up against Sri Lanka in Kanpur in 1986
Tillakaratne Dilshan had smashed 112 on the second day to give Sri Lanka a solid start after India amassed 426, courtesy Rahul Dravid's 177 and Mahendra Singh Dhoni's 110.
Morning session: (29 overs, 66 runs, 1 wicket)
With Dammika Prasad limping out injured in the post-tea session on Day 4, Sri Lanka were forced to open the bowling with all-rounder Angelo Mathews and he set about choking one end up with a tight line and length.
Night-watchman Amit Mishra, on 13, got a lifeline early on when his edge off Welegedara in the second over the day was dropped by Tillakaratne Dilshan, diving to his left, at second slip. The ball went to the boundary and Mishra followed it up with a delightful flicked four through midwicket off the next delivery to bring up India's 200 after 47 overs.
Gambhir got his first boundary of the day when he flicked a full delivery from Welegedara through midwicket in the 49th over of the day.
With the pacers posing no problems for the Indian batsmen, Sri Lanka introduced Muttiah Muralitharan, yet to make an impression in the match. While Gambhir was looking to play out time, Mishra kept the scoreboard ticking and had no problems getting singles as Sri Lanka employed a defensive field.
The first ten overs produced just 18 runs before Sri Lanka struck with the wicket of Mishra, who was brilliantly caught by Dilshan at leg gully off Mathews. The right-hander had played his part, spending nearly 40 minutes on the fifth morning and scoring 24 from 51 deliveries; he added 40 runs for the third wicket with Gambhir off 96 deliveries. (209-3, 56)
Tendulkar looked in good touch from the start as he smashed a wide delivery from Mathews through the off-side for his first boundary. In the next over, he slammed Muralitharan for two more boundaries, the veteran off-spinner pitching it wide outside the off-stump on each occasion.
While Mathews was miserly from one end, conceding just seven runs from his eight overs, runs were being leaked from the other end. Left-arm spinner Rangana Herath was hit for a boundary by Gambhir in his first over when he dropped it short and wide, in the 61st over.
Tendulkar got another boundary, through the third man region, when he reached out to a wide delivery from Mathews and got a thick outside edge to race to 17 from 19 deliveries, inclusive of four boundaries.
Despite the vast areas of rough patches outside Gambhir's off-stump, Herath was unable to trouble him. The left-hander steered him for a boundary through third man when the spinner dropped short, and a few deliveries later stepped out and lofted Herath over mid-on for his 11th boundary of the innings and moved to 98.
He brought up his century with a flicked boundary through fine leg off Mathews in the 66th over. It was his sixth century in his last eight Tests and, importantly, his fourth in the second innings, to boost India's chances of saving the match. It took the left-hander 188 deliveries to reach the landmark. Hit hit 12 boundaries and showed immense concentration while not allowing the bowlers even the sniff of a chance.
At lunch on the final day, India were 256 for three in 74 overs, with Gambhir unbeaten on 105 from 213 deliveries and Tendulkar not out on 22 from 56 deliveries.
India could score only 66 runs in 29 overs in the morning session, but, importantly, lost just one wicket. With the hosts trailing by just 78 runs, it would be fair to say that the match is heading towards a predictable draw unless the Indian batsmen self-destruct.
The Indians do not have to worry about the pitch, which is still playing true, while the Sri Lankan spinners, including Muralitharan, who went for 72 runs in 22 overs, also look ineffective.
Post-lunch session: (30 overs, 85 runs, 1 wicket)
Surprisingly, part-timer Tharanga Paranavitana was given the ball straightaway after lunch. The leg-spinner gifted a second ball full toss after the break which Tendulkar promptly despatched through the covers for a boundary to bring up the 50-run partnership for the fourth wicket with Gambhir.
Just when it looked like Gambhir was determined to play a long innings, he threw it away, attempting a rash shot. The left-hander danced down the wicket and tried to loft Herath straight but was beaten in the flight and ended up spooning a simple catch to Dammika Prasad at mid-off.
He was a picture of concentration till that lapse; he scored 114 from 230 deliveries, adding 66 runs for the fourth wicket with Tendulkar. (275-4, 80)
India were 280 for four after 84 overs. With the spinners not making much of an impact, Sri Lanka took the new red ball and brought on their pacers despite Muralitharan debating with captain Kumar Sangakkara without success.
Tendulkar scored his 36th run of the innings to complete 30,000 runs in international cricket, from 597 international matches, including 87 centuries in Tests and ODIs.
VVS Laxman, who was out for a duck in the first innings, got his first boundary when he guided Welegedara wide of the slips through the third man region.
Both the senior batsmen realised it was important to avoid any further causalities before the tea break and they chose to play with utmost caution.
India scored just 121 runs in the last 50 overs in contrast to 206 in the first 50 as they posted 327 for four after 100 overs.
Laxman got his second boundary after a long wait when he caressed a full toss from Muralitharan through the off-side in the 102nd over.
At the tea break, India had erased the deficit, and were 341 for four in 104 overs, a lead of seven runs.
It was a session that went to script for India, if not the spectators, as they lost just one wicket, while playing away 30 overs for 85 runs.
It is difficult to see the match changing course in the next session and one can only predict another boring session of meaningless cricket on a dead wicket.
Post-tea session: (30 overs, 85 runs, 0 wicket)
Tendulkar went on the attack immediately after tea, hitting Muralitharan for successive boundaries in the second over after the break. He first employed the paddle sweep against the bowler for a boundary and then stepped out and lofted one wide of mid-on for another one to the next delivery. It took India past 350.
It was one of Muralitharan's worst performances in his career as never before had he gone so many overs without a wicket in the second innings. He bowled 36 overs without a wicket for 117 runs as Laxman picked up the doosra and smashed him for a boundary through the off-side.
The duo brought up their 100-run partnership for the fifth wicket in 209 deliveries, in the 115th over of the innings.
Tendulkar flicked Herath through midwicket for his ninth boundary to move to 80 and Laxman got a boundary through the same area with a wristy flick off Muralitharan.
With 15 overs remaining, Sri Lanka captain Sangakkara asked if India were interested in calling off the game, but they rejected the idea, especially with Tendulkar (87) approaching a century.
The Sri Lankans then resorted to frustrating the Indian batsmen as they kept bowling wide of the off-stump. Tendulkar obviously wanted to break the shackles and flicked one outside the off-stump towards the fine leg for a boundary off Mathews to move into the nineties.
The course of play made many wonder why we needed to continue, since the result of the match was clear and one captain was ready to call off proceedings.
Tendulkar was close to his century, but in no hurry to get to the landmark. He bisected the gap between the two fielders at cover to get another boundary in the next over from Mathews to move to 97. He had to grind patiently in the nineties with Sri Lanka bowling wide on both sides of the stumps, but eventually he got to the mark with a quick single to mid-off.
It was the master batsman's 43rd century in Test cricket and came off 211 deliveries, including 11 boundaries.
The two senior pros were involved in a slow partnership of 137 runs in 49 overs that thwarted Sri Lanka in the final session and helped India escape with a draw on a pitch that never offered assistance to the bowlers.
Both sides though have a few worries on hand, mainly with their spinners, with Harbhajan Singh (2-189), Amit Mishra (1-203) and Muttiah Muralitharan (3-97 and 0-24) failing to make any sort of impression.
India must be feeling confident after all their batsmen came up with good performances under pressure to deny Sri Lanka their maiden victory on Indian soil.
The second Test will be played in Kanpur from November 24-28.