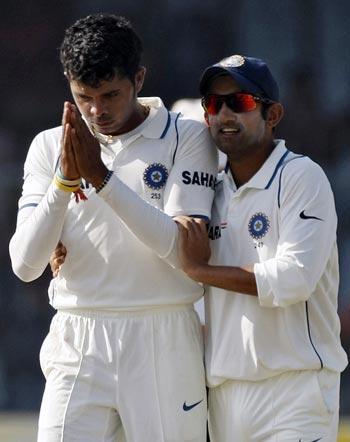 Claiming to be one of the most misunderstood cricketers in the world, born-again pacer S Sreesanth says he feared not playing for India again after a series of controversies plagued his career.
The star performer of Day 3 in the second India-Sri Lanka Test in Kanpur, Sreesanth shared his fears of not playing for India again because of his serial disciplinary indiscretions.
"To be honest, I never thought I will play for the country again. But God has been very kind and I got the opportunity at the right time," said Sreesanth, after his career-reviving five-wicket haul Sri Lanka's first innings that put India on the threshold of victory.
Sreesanth felt it was a sort of re-birth at the Green Park, where he played his last Test, against South Africa last year.
"I played my last Test here and it's nice to start here again. It's like a cycle, you go back from here and come back here again," he said.
Since the 2008 Slapgate incident -- he was slapped by Harbhajan Singh during an IPL match in Mohali -- Sreesanth gradually slipped into the wilderness with injuries and controversies joining hands to nearly ruin his career.
He was also told by the Board of Control for Cricket in India to mend his ways, failing which he could be banned from domestic cricket.
Sreesanth claimed he had been misunderstood.
"I think I have been misunderstood a lot of times, not just once or twice. I said in Ahmedabad also that I must be one of the most misunderstood cricketers in the world.
"But I don't think I would change. I will do things which are right and not things which people say are right," he added.
Asked if he went into the match wanting to silence his critics, he replied: "I was not proving a point. I was enjoying more and was playing to my expectations. I have become realistic now and set goals which I can achieve.
"Yes, I was desperate to get the new ball in hand. It's always a proud moment to play for the country and it was great to open the bowling with Zaheerbhai," he said.
Looking back, he felt his Warwickshire stint, where he worked with bowling great Allan Donald stood him in good stead even though Donald was critical of his approach.
"I think it was a good decision and I thank the BCCI for giving me the permission to play county cricket. It was not easy bowling there in June-July.
"Donald Sir helped me a lot. I know he said certain things about me but he helped me get my focus on off-field things, work on my work ethics, my attitude, training schedule and my professional approach. I have made a lot of sacrifices over the last seven months," Sreesanth said.
On his bowling, Sreesanth said he wanted to make the batsmen play as much as possible.
"It was a slow track and I had to work hard. Hitting the stumps was more important. I told myself that I might go for runs but I will make them play every ball," he said.
Of his five scalps in the first innings, Sreesanth said the last one was special for he had gone impatient for a five-fer.
"It has to be (Rangana) Herath's. It was testing my patience. I was getting irritated at not getting the fifth wicket. In domestic cricket also, I get impatient for that fifth wicket. But I told myself if I can beat him once, I can beat him 10 times also," he said.