An annoyed Younis Khan on Tuesday quit captaincy of the Pakistan cricket team after being grilled by the National Assembly Standing Committee on Sports, which wanted him to explain the team's performance in the recent Champions Trophy.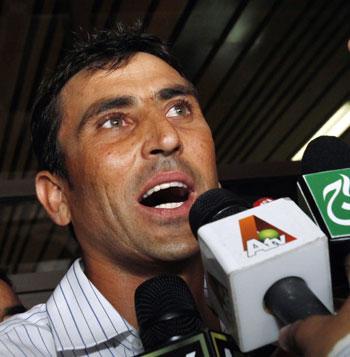 The standing committee had asked Pakistan Cricket Board chairman Ejaz Butt, Younis, coach Intikhab Alam and manager Yawar Saeed to explain their defeat against Australia and New Zealand in the Champions Trophy and the Pakistan captain was upset at the grilling.
It was not immediately known whether the Pakistan Cricket Board has accepted his resignation or were persuading him to re-consider his decision.
Television reports said that PCB has rejected his resignation.
The hostile parliamentarians raised a number of questions on the team's performance in those two matches in the backdrop of allegations that the cricketers tanked those games.
Younis got so annoyed with the allegations that he tendered his resignation, something he had warned earlier.
Other officials, however, were more restrained in their response and tried to convince the parliamentarians that the players could not be blamed for those defeats since it's all part of the game.
They said it it was just not Pakistan's day when they lost those matches. 
The standing committee did not look too perturbed with Younis' sudden resignation, which they described as an internal matter of the PCB.
The 31-year-old Younis, who had led Pakistan to Twenty20 World Cup triumph earlier this year, faced harsh criticism after the team crashed out in the semifinal of the Champions Trophy. 
A provincial Sports Minister, who happens to be a PCB Governing Council member, raised match-fixing allegations, while others sniffed an Indian conspiracy behind Pakistan's early ouster from the tournament in South Africa.