It was not the sort of welcome that Mahendra Singh Dhoni would have expected.
The first ball that he faced, he was struck flush on the helmet by a quick bouncer from pacer Ben Hilfenhaus.
But the Indian captain didn't make too much fuss about it.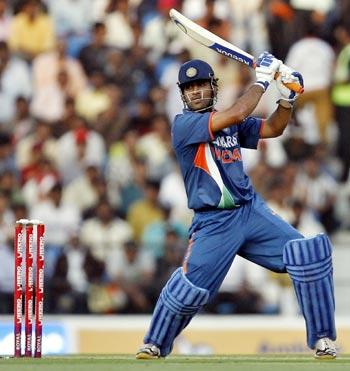 Infact, Dhoni didn't even change his helmet, just pondered for a few seconds, checked whether there was an injury or not.
He survived and then produced one of the best innings in recent times in one-day cricket when he smashed 124 off 107 deliveries to lead India to a convincing 99-run victory.
Dhoni, revealed, how he had lost his bearings for a few seconds after that blow.
"I went blank because when you get hit on the head that is what really happens. It hurts a bit," Dhoni said in Nagpur on Thursday.
The right-hander revealed short deliveries have always created a problem for him, but had his own way of dealing with it.
"It was a good delivery but it is not like I was hit on the head for the first time. If you make a programme on it I think you will get atleast 15 clippings. I get hit on the head all the time but it is not the best way to start your innings," he said.
Dhoni started off cautiously before unleashing his power-packed shots in the final overs to set up India's mammoth total of 354 for seven, their highest total against Australia in ODIs.
He pointed out that with additional responsibility he had become more mature as far as his batting was concerned, unlike in the past when he would go ballistic with the bat.
"I am not the same what I was three or four years back, less responsibility and more flair but now there is more responsibility whenever I turn up on the field. People expect me to get those runs and some of the venues they expect me to hit big sixes but it is different batting at number five, six or seven. Usually you play according to the situation but mostly it depends on what kind of pressure you are handling," he said.
Dhoni said being the senior player there is a lot of expectations on him to deliver with the bat and his approach had changed accordingly over the years.
"You play by instinct but at the same time there is a cautious attempt to see what the demand actually is. What happens is that if there is a youngster batting at number four and if he plays a big shot and gets out people say it is ok he will learn and improve.
"But when a set player who has played around 100-odd internationals be it anyone if he plays a big shot and succeeds then he is a braveheart and has played a real good shot. But if he is not successful people just rip him apart. At times, that is on back of your head whenever you look to go for a big shot you back yourself and go for it," he said.
The India skipper once again pointed out that it is difficult for him to bat up the order since the top four batsmen are difficult to break up.
"I have said that in the past also that it is very difficult to bat up the order. If you see the openers, Sachin Tendulkar and Virender Sehwag, they are the best that we have got. Gautam does his job everytime at number three, Yuvraj is the best suitable man to bat at number four so after that whatever slot is available I go at that particular slot.
"Unless somebody is out of form or is not going through a real good job then we can think about that. Till everybody is doing their job on the field you don't really want to tamper too many things and that is how it works," he said.