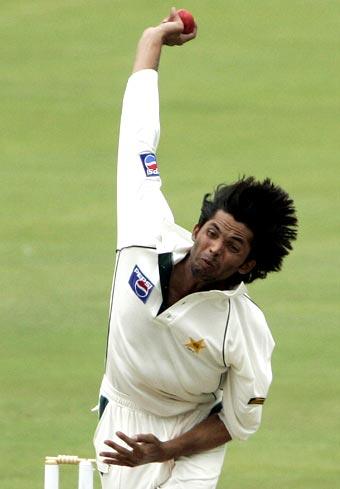 The Pakistan team management is seriously considering playing dope-tainted pacer Mohammad Asif in the crucial Champions Trophy tie against India on Saturday in Centurion, South Africa.
According to coach Intikhab Alam, Asif was in contention for the match after he trained with the team for the first time on Thursday after completing a one-year ban for failing a dope test during the Indian Premier League.
"He is a match winner we all know that. There are no two opinions about his ability to challenge the best players. But we were just apprehensive about his match fitness and we have now checked it out in the nets," Intikhab said.
Asif was chosen by the ICC anti-doping committee for a test on Thursday which is said to have caught the team management by surprise.
But Intikhab played down Asif's dope test insisting it was a routine matter and the pacer was under no pressure.
"We are all just focusing on the game against India as it is a very important match for us in this tournament. It is good that we got a game in against the West Indies, it has given us a good idea of where we need to pick up. The batsmen definitely cannot repeat the mistakes they committed in that match."
Alam said Pakistan had a power-packed bowling attack to challenge the Indian batsmen.
"It is a welcome selection dilemma for us that Asif is in contention for tomorrow's match. But the question is, how do we fit him in as the others are all bowling well?" Alam said.