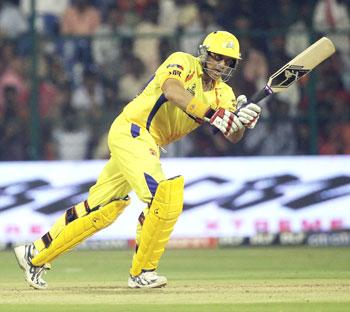 Former Australian opener Matthew Hayden believes cricket is entering a new and exciting era with the advent of Twenty20 competitions like the Indian Premier League (IPL), the introduction of the revolutionary long handle-short blade "Mongoose Bat" and the pink cricket ball.
Hayden has caused a stir in the ongoing third edition of the IPL with his Mongoose bat that generates extra hitting power with its long handle and short blade.
And, with the MCC and Durham have a trial run with a pink ball in Abu Dhabi and day-night Tests on the agenda, Hayden, 38, claims the game is changing faster than ever.
"Cricket's landscape is colourful. Test cricket is your Rembrandt and the other formats are there to be painted in different and exciting ways," The Sun quoted Hayden, as saying.
The pink cricket ball, which has been used under lights for the first time in a four-day game, has received a mixed response with players saying that it was not very difficult to see but some viewers outside the field faced problems to spot the ball from a distance.
The ball is being tested as part of a bid to eventually play the five-day Test format under lights to make the game more popular.
ICC president David Morgan said Tests will be played under lights by 2012 although plans to have a night-time Test against Bangladesh this summer were scrapped.