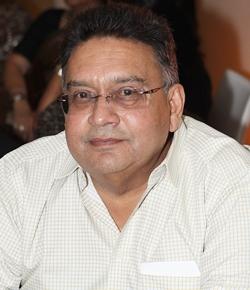 It is a little amusing to know that Chirayu Amin, the newly-appointed interim chief of the Indian Premier League, enjoys an image that is in total contrast to that of his predecessor, Lalit Modi, in public life.
Talk to anybody in Baroda, and they say: "Bahu sara manas che (he is a very nice man)."
Chirayubhai, as he is known in Baroda, is soft-spoken and family-oriented, never enjoys talking to the media, and never flaunts his extraordinary wealth.
If that sets him apart from his predecessor, Modi and Amin also have one common trait: both were born not with the proverbial silver spoon but platinum spoon in their mouth. Their fathers were extraordinarily wealthy. Modi's grandfather established Modinagar near New Delhi while Amin's father and grandfather were trendsetters in India's pharmaceutical and glass industry. They came to Baroda from Virsad village of Kheda district.
Amin is a third generation industrialist. Ramanbhai Amin, Chirayu's father, developed Alembic, the pharmaceutical company, and took it to great heights with one product, Glycodin cough syrup that helped cure a generation of Indians of persistent cough.
His father also developed the Yera glass factory in Baroda; the brand was once a household name, and was named after Yera, Chirayubhai's unmarried sister.
The Amin family in Baroda is known for their amazing real estate holdings, contribution to civic causes and education.
Almost a century ago, when Chirayu's grandfather established Alembic Chemical Works Company Ltd for producing tincture and alcohol, land was easily available. The royal Gaikwad family of Baroda had a special relationship with the Patidars of neighbouring Kheda district. Some of the Patels, who were appointed as revenue collectors and to keep accounts, were known as Amins. Chirayu's forefathers' community members had royal links because they were tax collectors. When Alembic started, they acquired huge chunks of land from the royal family and later the government.
In the last four generations their businesses went through ups and downs, but the family maintained its wealth. Recently, Chirayu sold a big chunk of land to Raheja builders for constructing a mall and other facilities in Baroda after Alembic shifted its major establishment to Baddi in Himachal Pradesh.
Chirayu has three sons -- Pranav, Shaunak and Udit – who have taken over the responsibility to run the business. Chirayu's wife Mallika is daughter of the tremendously successful Mumbai-based Mariwala family which owns Parachute brand of hair oil. 
Chirayu's forays into cricket management were a consequence of Jayant Lele's downfall in Baroda Cricket Association. A few years back, Lele faced charges similar to what Lalit Modi is facing today and the rival camp in the BCA requested Chirayubhai to take over.
Though Chirayu's management of the BCA is clean, it lacks ambition. As president of the BCA, he is not able to come up with spectacular results. A senior BCA member says, "Chirayubhai has not been able to acquire land to build a stadium for the BCA, as Narhari Amin did in Ahmedabad with the Motera stadium. Narhari gave lots of time and sweated it out to see that the Motera stadium came up. We wish Chirayubhai's current appointment would help Baroda Cricket Association get its own stadium."
Chirayu's father Ramanbhai supported the Congress but Chirayu has remained largely apolitical. However, the nice man that he is, he is not easy to bully either.
His close friend and a member of the BCA, says, "Chirayu is soft, but neither the Congress or the Bharatiya Janata Party can bully him. He is his own man."