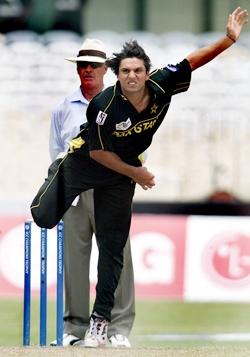 Pakistan's former captain Inzamam-ul Haq has tipped Pakistan to successfully defend its title and win the World Twenty20 Cup in the West Indies that starts on Friday.
"The way I see it, this Pakistan team is well-balanced and so strong for this format of the game that it shouldn't lose to any team unless they self-destruct with internal issues," Inzamam, the country's most capped player said.
Inzamam said that Pakistan has a very strong bowling line-up but they need to be consistent in their batting.
"The bowling is strong and has variety; so that will be their strength, but the batting has issues and the senior players will have to shoulder the main responsibility," he said.
Inzamam, who played 120 Tests and 318 one-day internationals, said Pakistan must play sensible cricket to do well.
"South Africa and India, to me, are the greatest threats to Pakistan's ambitions to win the World Cup. I am very impressed with the disciplined way theh South Africans play, while the Indians have some dangerous players with plenty of flair," he said.
Inzamam said Misbah-ul Haq will have to anchor the innings, as he is capable of playing a long innings, but the others must play their natural game.
"Shahid Afridi is perfect for T20 cricket and he has lot of energy and enthusiasm as a captain. He will be vital to Pakistan's success in the tournament. I see him turning out to be an inspirational leader for his team."
Former Pakistan captain and ex-chief selector Aamir Sohail predicted a more sedate World T20 Cup this time.
"I don't think we will see the high ratio of sixes and big totals this time in this tournament. Mainly because of the pitches and the weather conditions in the West Indies would also test the teams."
Sohail said initially when T20 cricket was launched the bowlers were running away, scared of taking a hiding, but now they had read the format well.
"The bowlers now try to take wickets; it is not just about big hitting. This World Cup will be all about which team displays better skills and plays clinical and sensible cricket," he said.
He pointed out that T20 cricket has evolved over the last few years and the World Cup will be different in nature from the Indian Premier League.
The former opener said the Pakistan team is well-suited and equipped for the World Cup, but he disagreed with the selection of left arm spinner Abdul Rehman as a replacement for the injured Yasir Arafat.
"We have enough spinners in the side and I don't think Rehman will get a chance to play in this tournament," he added.