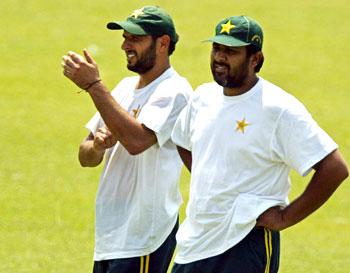 Former Pakistan captain Inzamam-ul-Haq lashed out at Shahid Afridi and said the all-rounder was extremely fortunate to have escaped with just a two-match ban after the ball-tampering episode in Perth.
"What Afridi did was unacceptable and more worrying is the fact that he was captain when he tried to tamper with the ball. He didn't do any good service to Pakistan cricket with his actions," Inzamam added.
"The match referee Ranjan Madugalle has been kind to Afridi, giving him just a two-match ban or else Afridi could have been in bigger trouble," Inzamam said.
Stand-in captain Afridi was caught on camera biting the ball during the fifth and final ODI against Australia in Perth, inviting a ban for two Twenty20 Internationals.
Inzamam, Pakistan's most capped player with 120 Tests and 378 ODI appearances, also warned the board not to allow indiscipline to fester in the team.
He said the Afridi incident illustrated the falling levels of discipline in the national team and cricket set up.
"I hold the board responsible for all that is happening. It shows there is a great need to enforce stricter discipline in the team. But the board itself promotes such things by giving unnecessary statements during a tour," he said.
Inzamam said the board had no business giving a statement that they would change the captain during the Australian tour. "Obviously it had a negative effect on the performance of the team and captain," he said.
Inzamam maintained that the board needed to continue to show confidence in Mohammad Yousuf's captaincy.
"Yousuf accepted captaincy at a very difficult time for Pakistan cricket and he has done his best in New Zealand and Australia, where in the past also stronger teams have tasted defeat.
"I think the board must show confidence in him and give him a fair chance to show his capability as captain. I am confident he is perfectly capable of leading the team well in future," Inzamam said.
He, however, criticised Yousuf and the selectors for sending Younis Khan to Australia.
"Yousuf should never have pushed for Younis to be sent for the tests or ODIs in Australia as he is not in form. Similarly the selectors showed no vision by first not sending Younis for the Tests and then rushing him into the ODI squad," he said.