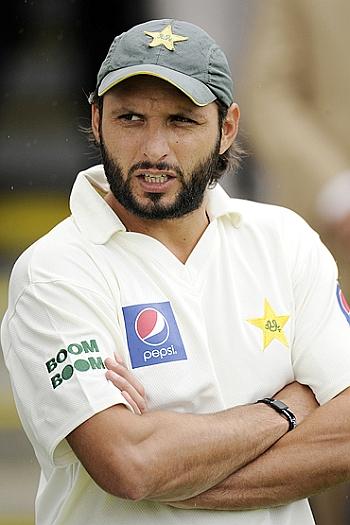 Pakistan is struggling in the ongoing tour of England because the team lacks players with the "right temperament" for Test cricket but it will do better in the shorter versions of the game, feels One-day and Twenty20 captain Shahid Afridi.
Pakistan has struggled badly with their batting and fielding in the four Tests they have played against Australia and England losing three of them.
Afridi himself announced his retirement from Test cricket and returned home after Pakistan lost the first Test to Australia at Lord's last month under his captaincy insisting he didn't have the temperament for the five-day game.
"I think we have seen the players up close after their performances in England and obviously there will be some changes for the one-day series but I feel we have a good combination for limited overs cricket although we are struggling in Test matches," he said.
"We are struggling in England because we don't have too many players with the right temperament for five-day cricket. But in contrast we have talented players for the shorter versions of the sport," he added.
Afridi and chief selector Mohsin Khan will fly to England next week to meet team officials to finalise the squad for the two Twenty20 matches and five one-dayers against England all scheduled in September.
Afridi, despite resigning as Test captain, is expected to retain the captaincy for the Twenty20 and one-day matches.
"All decisions will be taken unanimously and after mutual consultation. We will try to pick the best available players," he added.
Afridi also hit out at former players who have been critical of the team's performance. "Some of our former players are very negative in their comments on the team and I think they must be more supportive because a player can only give his best when he knows he has backing and support of the cricket community," he said.
Afridi said as captain he is desperate to see the team do well in the coming One-day series. "We have had so many problems in Pakistan with millions being rendered homeless due to the floods. I just want to contribute in bringing some joy to our people who are facing so many problems right now," he said.
"And I am confident we can do that because in One-day and Twenty20 cricket, we have good teams," he added.
Afridi himself has spearheaded a campaign to raise funds for the flood victims and recently visited Dubai for charity functions.