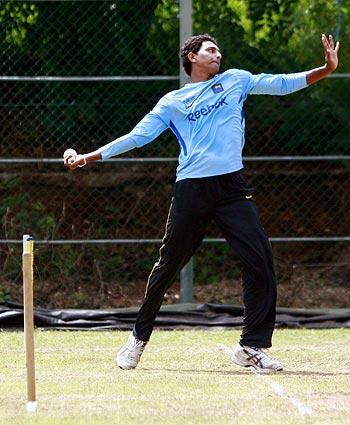 Sri Lanka captain Kumar Sangakkara on Wednesday took full responsibility for the 'no-ball' incident during his team's tri-series match against India and said his Board will take appropriate action if any player is found guilty.
"I regret what happened, we need to take responsibility as a team. The incident is up to the Board to take a decision. The Board has said they will take action. I spoke my mind out to the team on the whole incident. Now it's up to cricket board to decide what way we should go," Sangakkara told a press conference ahead of his side's tri-series match against New Zealand on Thursday.
"The Board has instructed team manager for an inquiry. I have made my views known to the Board and the manager. I don't think there's anything more can be expected from us as a team. Now the matter is with our Board, to act upon it as it thinks fit," he said.
Sangakkara refused to concede that Suraj Randiv's no-ball which denied Sehwag a century was a deliberate act and said the team will stand by the off-spinner or any other player whatever decision the Board takes.
"It (whether deliberate or not) is a grey area. At the end of the day, everything is not in black and white. I think everyone realises that. I think all teams in the world have gone through similar experiences," he said.
"Anytime, we stand up to right thing and try to protect the players who are not at fault. In any way due to lack of experience or due to influence, if something happens and if we feel that a player needs to be supported, we support.
"But at all times, we hope all players will support the team as well. At the end of the day, what matters is the team. No one can win matches alone. If we do the right thing or the wrong thing, as a team we need to take the responsibility together," said the home side captain.
Sangakkara, who is the representative of current players in the ICC Cricket Committee, however, suggested that his players should uphold the spirit of the game.
"You need to make sure that you keep trying to impress upon players that the responsibility of playing cricket is not all the time about runs and wickets and winning. Winning and losing is part of the game, the manner in which you play the game and the manner in which you present yourself on and off the field is also important," the Lankan captain said.
"It's not just Sri Lanka, it's the responsibility of all cricketers of the world. This incident was unfortunate, it's not Sri Lanka Cricket has to take the sole proprietorship of whole unsavoury incidents. All sides have gone through such incidents including India," he said.
Sangakkara was not happy with Sehwag speaking in two voices on the controversy and "sensationalising" the issue.
"We can't expect just one side to keep making advances and holding out the hand while it has been sensationalised by other players. I think everyone has got the responsibility to move on from this incident," he said when asked if Sri Lankan team has anything to say to Sehwag.
"He said one thing at match presentation and there was a mark contrast in the press conference with regard to that no ball. I have spoken to Mahi (Mahendra Singh Dhoni) and Gary Kirsten. Sehwag has tweeted that there have been other approaches made to him. I think if you all talk of the spirit of the game, once you set right things in motion, it's the responsibility of all players, to be within that spirit," he added.
He also seemed to suggest that there was no deliberate act by any of Sri Lankan players in denying a century to Sachin Tendulkar in Cuttack as has been said by Sehwag.
"There's been this incident in Cuttack been brought up. I have seen the replay of it and that was actually a leg-bye. The umpire signalled a bye and the batsman implied that he might have even hit it.
"So there are various incidents that happen along the way, our job is to rise above that whether it's been incidents in Pakistan, political interference, racism. The incident like this will happen, but we need to make sure to minimise it or eradicate it and to make sure to play with the spirit of the game and continue the relationships we have.
"There have been abuses of players and there have been incidents in the recent past. India-Australia has been acrimonious, all of those things have been left on the field and the players have got on with the game," he said.
Asked about local media reports that Tillakaratne Dilshan had suggested Randiv to bowl the no-ball, Sangakkara said, "The Board will inquire into the matter, taking into account all the statements made by the players, the views I have communicated to them, the views of manager. It doesn't matter, one person or five persons did it. End of the day, the team, has to face the consequences."
He said he at first thought Sehwag would get his century after the Randiv no-ball was hit for a six only to realise later that it was not so under MCC Laws of Cricket.
"We were under impression that in normal situations of the game even in a no ball, you get the runs. I was under the impression that Sehwag was on 105. There was no instance we thought he was denied a 100. Tony Greig asked me at the post-match presentation, Sehwag was denied a hundred. That was a surprise to me, I don't think anyone understood intricacies of the law in first place," he said.
"We had no inclination to deny Sehwag a hundred. If you need three runs to win and four runs to get a hundred, if you score a boundary, you do get a hundred. I would have thought that if he was stumped off a wide, we would have denied him. Maybe it's something to remember that if someone balls a wide with one run to win you can charge down the wicket and miss it if it is wide," said Sangakkara.