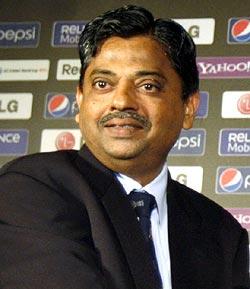 The much debated Umpire Decision Review System (UDRS) will not be used in the forthcoming Test and ODI series between hosts India and Australia, the Board of Control for Cricket in India (BCCI) said on Saturday.
"There won't be any UDRS in the series. We have already written to the International Cricket Council," said BCCI's chief administrative office Prof Ratnakar Shetty said in Mumbai.
Australia, who are set to arrive on September 21, are to play two Tests at Mohali and Bangalore and three One-Day Internationals  -- at Kochi, Vishakapatnam and Goa.
Asked if the UDRS could be used in next year's World Cup to be held in the sub-continent, Shetty, who is also the Tournament Director, said it is an ICC event and the world body calls the shots over the issue.
On July 1, the ICC Executive Board met in Singapore and approved 13 recommendations relating to the use of UDRS in Test matches and the 2011 World Cup following recommendations from its Cricket Committee and minor amendments from the Chief Executives' Committee (CEC).
One of the decisions was that the host member board would determine whether to use UDRS in home Test series (following consultation with the visiting country).
It was also agreed that UDRS would be used in 2011 World Cup if agreement can be reached with the ICC's broadcast partner ESPN STAR Sports, the host countries (Bangladesh, India and Sri Lanka) and if there is sufficient technology available to operate UDRS in a global event.
ICC Chief Executive Haroon Lorgat said after the meeting that the world governing body for the game is eager to use UDRS in cricket's mega event.
"We have all seen the benefits of using UDRS to assist umpires in Test cricket and we are now keen to use UDRS in the ICC Cricket World Cup," he had said.