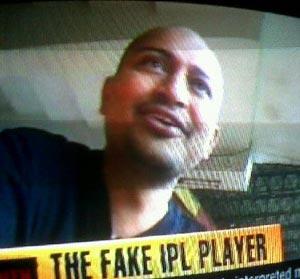 The
Fake IPL Player
has finally come out in the open.
Anupam Mukerji, whose blog posts hit the headlines during the Indian Premier League's second season in 2009, revealed his identity on the Times Now news channel on Saturday afternoon.
It was Mukerji's first public appearance. On his blog he had claimed that he was a part of the Kolkata Knight Riders team.
'It is time to finally lay to rest the ghost of the fake ipl player. It's been an amazing ride but like all good things this too must come to an end,' he wrote on his blog on Saturday.
Mukherji's blog (http://www.fakeiplplayer.com/) became a big controversy during last year's IPL-2 as he referred to the players by different -- often cheeky -- nicknames and also mentioned alleged events in the dressing rooms during IPL-2, which was played in South Africa.
On Saturday Mukerji claimed all his writings were fictional.
'All characters appearing in this work (blog) are not fictitious. Any resemblance to real persons, living or dead, is purely coincidental and unintentional,' Mukerji said.
In March, Mukerji released a book, The Gamechangers, during the IPL's third season.
He said he would reveal his identity at the end of IPL-3, but he only released a shadowy personal video on his blog.
Mukerji revealed he had never travelled to the venue of any IPL match and the blog was just a 'figment of his imagination.'
'I didn't know anyone from that team (Kolkata) or any other team,' he added.
Image: The Fake IPL Player seen on Times Now.