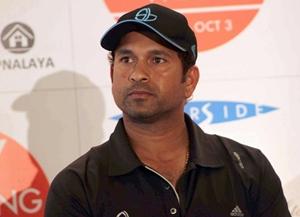 India's top cricketer Sachin Tendulkar, who is not new to awards and honours, will be conferred with IAF's honorary rank of Group Captain. 
IAF chief Air Chief Marshal P V Naik will do the honours at a ceremony in New Delhi on Friday when the star cricketer will be inducted into the Air Force to be its brand ambassador, according to IAF officers.
President Pratibha Patil had conferred the honorary rank of the IAF on the batting maestro on June 23 this year. 
The honorary rank was conferred on Sachin under the provision of granting honorary rank by Armed Forces to eminent personalities acknowledging their contribution towards the nation.
"The President and the Supreme Commander of the Armed Forces of India is pleased to confer Sachin Ramesh Tendulkar the honorary rank of Group Captain of the Indian Air Force," the IAF had then said.
The honour to one of India's greatest batsman came in recognition of his glorious achievements as a cricketer and sports icon par excellence.
The IAF had in January this year mooted a proposal to confer the honorary rank of Group Captain. 
IAF feels that besides the recognition, his association with it would motivate the younger generation to join the Air Force to serve the country. 
When the conferment was announced, an elated Tendular had said he was proud to be part of IAF family. 
"It is indeed a great honour that I have been considered for honorary Group Captain in the IAF. As an Indian I am proud to be associated with the dynamic force and I shall do my very best to be brand ambassador for the force," he had said.
Before being felicitated with the honorary rank, Tendulkar had gone through a process of familiarisation with the IAF and training in basic military practices and drills. 
In 2008, India's World Cup winning captain Kapil Dev had received the honorary rank of Lieutenant Colonel of the  Territorial Army.
Till date, 21 eminent personalities have been granted honorary ranks by the IAF, the first person being the Raja of Jawhar Raja Yashwant Rao, who was conferred the Flight Lieutenant rank in 1944.
Industrialist J R D Tata was made an honorary Air Vice Marshal in 1974 and the last one to get such an honour in 1990 was industrialist-cum-aviator Vijaypat Singhania, who is now an honorary Air Commodore.
Once Tendulkar receives the honour, he would be the first sports person to be conferred a rank by IAF and the first personality with no aviation background to have got this honour.