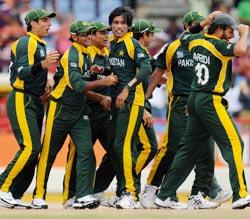 The International Cricket Council (ICC) wants the Pakistan Cricket Board (PCB) to drop the accused players at the centre of allegations of match-fixing from their squad for the forthcoming One-Day International series against England.
ICC chairman Sharad Pawar has told PCB that the credibility of the one-day series will be compromised if Salman Butt, Mohammad Asif, Mohammad Amir and Kamran Akmal play against England, British newspaper the Telegraph reported on Tuesday.
- Uncovered: Who is Mazhar Majeed
"The PCB has so far resisted pressure to take action against the four based simply on an incomplete police investigation and a tabloid newspaper sting. But senior sources have indicated the PCB will act once a report by cricket's Anti-Corruption and Security Unit is completed by the middle of the week, which will give the game's authorities the leverage to act before Pakistan play a Twenty20 match at Somerset on Thursday. It is believed the players have taken legal advice and the ICC is preparing a watertight case to avoid any future litigation," the report further adds.
The sport was thrown into a turmoil on Saturday, after police in London arrested London-based bookie Mazhar Majeed for offering bribes to some Pakistan players for spot fixing in the fourth Test against England at Lord's following claims in the tabloid newspaper, the News of the World.
The man also told the newspaper the Sydney Test in January, which Australia won by 36 runs after overcoming a 206-run first innings deficit before dismissing Pakistan for 139 in their run chase, had been fixed.
The match was investigated by the ICC's anti-corruption unit, while the Pakistan tour of Australia, in which the tourists lost all of their matches, was the subject to an inquiry by the Pakistani board.
The ICC on Monday promised that "prompt and decisive action" will be taken against Pakistani players if they are found guilty of 'spot-fixing' in the fourth Test against England in London. The ICC's anti-corruption unit has been asked to submit a report on its investigation within the next three days.
The ICC has not yet suspended any of Pakistani players after the scandal broke out on Sunday but made it clear that the world body will not be lenient on any cricketer found guilty.
"The integrity of the game is of paramount importance. Prompt and decisive action will be taken against those who seek to harm it," ICC chief executive Haroon Lorgat said.
Pakistan will play two Twenty20 internationals in Cardiff starting on Sunday before a five-match ODI series.