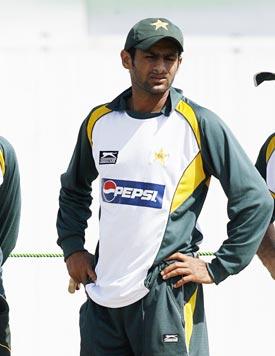 Beneficiary of the ball-biting episode that earned Shahid Afridi a two-match ban, former captain Shoaib Malik will lead Pakistan in Friday's one-off Twenty20 International against Australia in Melbourne.
"Malik will lead the Pakistan team in the only Twenty20 match against Australia in absence of Afridi," Pakistan Cricket Board said in a statement today.
Regular Twenty20 captain Afridi has been banned for two Twenty20 Internationals after he was caught on camera biting at the ball during the fifth and final One-dayer against the Aussies in Perth.
Analysts here believe the decision to revert back to Malik is a clear indication that the board might be thinking on lines of bringing him back as captain of the Test and one-day sides as well.
"Younis Khan has ruled out captaining the team again, Mohammad Yousuf was a total disappointment in Australia and Shahid Afridi has done no good to his chances of becoming the permanent captain of the Test or ODI squads after the ball-tampering incident," one source in the board said.
Malik was removed as captain in early 2008 on the recommendations of coach Intikhab Alam and former manager Yawar Saeed after Pakistan lost a home One-day series to Sri Lanka.
Malik was then accused of not communicating well with other players and being both a loner and dictator.