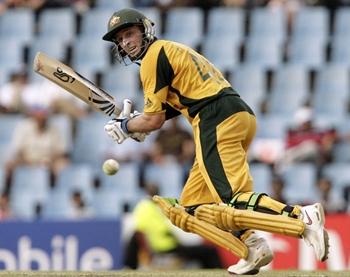 Australia's Michael Hussey has replaced India captain Mahendra Singh Dhoni at the top of the Reliance Mobile ICC Player Rankings for ODI batsmen after an outstanding series against Pakistan which concluded on Sunday.
Hussey scored 220 runs at an average of 73.33 which not only helped Australia make a clean sweep of the five-match series but also put him ahead of Dhoni in the latest rankings which were released on Monday.
Hussey had started the series trailing Dhoni by 21 points and he now leads the Indian captain by three points with a chance to extend the advantage when he and Australia takes on the West Indies in a five-match ODI series which starts in Melbourne on February 7.
The 34-year-old Western Australian had first occupied the top spot after the ODI against the West Indies in Kuala Lumpur in September 2006 before slipping down the order during the ICC Cricket World Cup 2007 in the West Indies.
In contrast, it is the first time since January 2009 that Dhoni has conceded his top spot which he had first achieved in Jamshedpur in April 2006. However, Dhoni too will have an opportunity to regain the coveted number-one position when he leads India in the three-match ODI series against South Africa which starts in Jaipur from February 21.
Besides Hussey, Australia vice-captain Michael Clarke has also gained two places and has jumped from 18th position to 16th spot after scoring 173 runs in the series.
However, rival captains Ricky Ponting and Mohammad Yousuf have slipped in the order. Ponting, who scored 125 runs in the series, has dropped four places to eighth spot while Yousuf has slipped three places to 18th position after managing just 81 runs at an average of little over 20.
Australia's Cameron White and Pakistan's Umar Akmal are the biggest movers in the latest rankings with both the middle-order batsman achieving their career-best rankings.
White, who finished the series as the leading run-getter with 245 runs, has rocketed 20 places to share the 23rd spot with England's Kevin Pietersen while Umar has jumped 18 places to occupy 38th spot after scoring 187 runs.
Australia's Shane Watson has also improved his ranking by two places and is now in 25th position but Pakistan's trio of Shoaib Malik, Salman Butt and Younus Khan have slipped in the rankings. Shoaib has dropped three places to 27th position, Salman has fallen five places to 31st spot and Younus has slipped six places to 39th spot.
In the ICC Player Rankings for ODI bowlers, Pakistan's Shahid Afridi has returned to the top 10. The wrist spinner, who took six wickets in the series, has jumped three places to ninth spot.
However, off-spinners Nathan Haurtiz of Australia and Pakistan's Saeed Ajmal have dropped to 20th and 21st spots respectively after slipping four places each.
Watson continues to inch towards a place in the top 20 with a jump of six places to 24th spot while Pakistan's Mohammad Asif has vaulted 15 places to sit in 29th position.
Clint McKay, who was the most successful bowler of the series with 14 wickets, has rocketed 198 places to share the 59th position with India's Munaf Patel while Ryan Harris, who took 13 wickets in three matches, has broken into the top 100 and now sits in 94th spot after jumping 191 places.
The bowlers' list is still headed by Daniel Vettori of New Zealand with Ray Price of Zimbabwe in second position.
Meanwhile, in the ICC ODI Championship table, Australia has opened up 12 points gap with second-placed India after it earned three ratings points for winning all the five matches of the series.
In contrast, Pakistan has conceded four ratings points and is now on 104 ratings points -- four behind sixth-placed Sri Lanka and 28 ratings points ahead of eighth-placed West Indies.
ICC ODI Championship as of 1 February 2010:
| | | |
| --- | --- | --- |
| Rank | Team | Rating |
| 1 | Australia | 133 |
| 2 | India | 121 |
| 3 | South Africa | 119 |
| 4 | New Zealand | 112 |
| 5 | England | 109 |
| 6 | Sri Lanka | 108 |
| 7 | Pakistan | 104 |
| 8 | West Indies | 76 |
| 9 | Bangladesh | 55 |
| 10 | Zimbabwe | 26 |
| 11 | Ireland | 25 |
| 12 | Kenya | 2 |