Shocking instances of bickering and in-fighting surfaced to suggest that Pakistan's rout in New Zealand and Australia were partly because of the enemy within.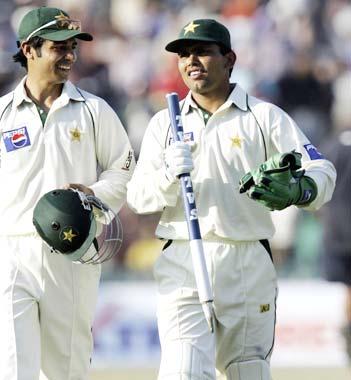 Sources close to the team revealed to PTI shocking instances of how a handful of players fought petty battles to secure personal career gains while the team's interest became the obvious casualty.
"Kamran Akmal, Umar Akmal, Shoaib Malik, Misbah-ul-Haq, Salman Butt - these players caused problems and headaches for everyone at different stages of the tour and their actions confirmed they were more interested in personal issues rather than putting national and team interests above everything else," one source said.
He also said that captain Mohammad Yousuf watched helplessly as things went out of control since he lacked the strength of character that was needed in such a situation.
"Yousuf himself was under immense pressure throughout the tour and it reflected in the way he handled issues," the source said.
Giving details, he said in the Test series in New Zealand, when Yousuf and coach Intikhab Alam sent Umar Akmal to bat in at number three, his elder brother Kamran threw a tantrum.
"It was astonishing the way Kamran behaved. He went after Yousuf and Intikhab for allegedly trying to hurt his brother's career by sending him at number three. Kamran's tantrum virtually forced Yousuf to go and bat himself at number three in the second innings of the Test," the source said.
He said throughout the New Zealand tour, no player was willing to bat at number three and Faisal Iqbal did it in the final Test only because he was desperate to play.
"But even Faisal told Yousuf and Intikhab that he was willing to bat at number three but he must be given a fair chance and not made a sacrificial lamb," the source said.
He said Misbah was another problem but Shoaib Malik was the worst of the lot.
"Shoaib Malik was the worst when he was not playing and sitting in the dressing room. He created a vile atmosphere with his attitude running down the players and passing snide remarks. He also complained a lot. The board should ensure that he doesn't sit in the dressing room if he is not playing. He created differences in the team," the source said.
He said after the Sydney Test, Umar Akmal tried to fake a back injury when he came to know that his brother Kamran was being dropped from the team.
"Umar, four days before the Test in Hobart, said he had a back problem and couldn't practise or play. The management sent him for an MRI scan when the reports came clear, Umar claimed he had developed a stiff back because of the weather," the source said.
The source said that Yousuf had failed miserably to control things and the management also seemed helpless.
"Players dictated terms to the management. In Tasmania during a practice match, Salman Butt refused to open in the second innings, insisting he had scored a hundred and wanted a rest. Kamran also didn't keep wickets," the source said.
"These were the same group of players who had ganged up against Younis Khan when he was captain and they are causing harm to Pakistan cricket with their behaviour," the source said.
Meanwhile, the Wasim Bari-led six-man panel, which will probe the team's performance, has been directed to complete its hearing and submit its recommendations by end of February,
Pakistan Cricket Board's legal advisor and panel member Tafazzul Rizvi told PTI.
"We have to complete our proceedings and give our report because of the heavy international commitments of the Pakistan team this year," Rizvi said.
He said the hearings with the team players and officials would be held in-camera and terms of reference of the committee would be finalised in next few days.