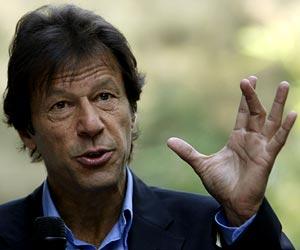 Shahid Afridi is not the only one who thinks that all teams tamper with the ball.
Pakistan's World Cup winning former captain Imran Khan and another ex-skipper Rameez Raja also feel the same.
Afridi, who has been banned for two Twenty20 matches for tampering with the ball in the fifth and final One-Day International against Australia in Perth, has claimed that all teams try such tactics to exploit the conditions to their advantage.
Backing Afridi's claim, Imran said only the sub-continental teams are punished for the offence.
"It is nothing new, when we were playing and developed reverse swing we were accused of being cheats and tampering with the ball, but when the English and other bowlers did it became an art," he said.
However, both Imran and Rameez didn't condone Afridi's behaviour in gnawing into the ball.
Imran insisted he never tampered with the ball in his playing days as other teams did.
"There have been several recorded incidents of teams trying to change condition of the ball through various methods," he claimed.
Rameez also insisted that ball tampering is done by most of the teams.
"It is nothing new but what Afridi did is totally unacceptable. He was not playing in a club match it was an international match in front of many cameras and he should have avoided this moment of madness," he said.
"Having the will and desire to win is one thing but doing something like what he did is another thing it embarrassed all of us," he said.
He said Afridi had spoilt his own image by his actions.
"You certainly don't want a captain who loses his cool this way although he has shown all the qualities of making our team fight.," he said.
Rameez also called on the Pakistan Cricket Board (PCB) to set up an inquiry committee to find out why Afridi did what he did.
"It is not a small matter and needs to be looked into as it should never have happened," he added.