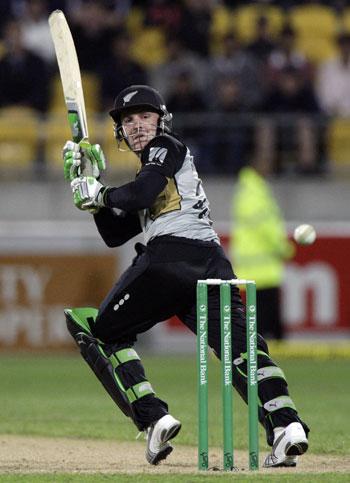 New Zealand thrashed Bangladesh by 10 wickets in the one-off Twenty20 match in Hamilton on Wednesday.
After dismissing the visitors for a paltry 78, the Black Caps romped home in eight overs. 
Bangladesh were not only poor with the bat, but also lacklustre in the field. New Zealand openers Brendon McCullum and debutant Peter Ingram were given lifelines.
McCullum made full use of the reprieve to get vital match practice. His blazing innings of 56 not out included seven fours and two sixes from 27 balls.
He was well-supported by Ingram, who had a good hit in the middle, scoring an unbeaten 20 off 23 balls, which included three boundaries.
Earlier in the day, New Zealand captain Daniel Vettori bagged three wickets for six runs in his four overs. He claimed the scalps of Mohammad Ashraful, Mushfiqur Rahim and Shahadat Hossain, while Daryl Tuffey, Nathan McCullum and Jacob Oram claimed two victims each.
Only five Bangladesh batsmen -- Tamim Iqbal (14), Ashraful (11), Aftab Ahmed (12), Mahmudullah (11) and Raqibul Hasan -- made it to double figures in what was the sixth lowest international Twenty20 score ever.
Scorecard
Bangladesh:
T Iqbal c McCullum b Tuffey 14
M Ashraful c Hopkins b Vettori 11
Aftab Ahmed b Franklin 12
S Al Hasan b McCullum 3
M Rahim lbw b Vettori 0
M Mahmuddal c Franklin b McCullum 11
N Islam b Oram 5
R Hasan c Hopkins b Oram 18
S Hossain s McCullum b Vettori 1
Shafiul Islam c Taylor b Tuffey 1
N Hossain not out 0
Extras:  2
Total: (in 17.3 overs) 78
Fall of wickets: 1-18, 2-37, 3-41, 4-42, 5-42, 6-57, 7-59, 8-64, 9-72, 10-78 
Bowling: Tuffey 4-0-16-2, Southee 2-0-15-0, Franklin 1-0-8-1, Vettori 4-1-6-3, McCullum 4-0-15-2, Oram 2.3-0-16-2.
New Zealand:
B B McCullum not out 56
P J Ingram not out 20
Extras: 3
Total (without loss, 8.2 overs): 79
Bowling: Hossain 3-0-28-0, Hossain 2-0-18-0, Islam 1-0-7-0, Al Hasan 2-0-16-0, Aftab Ahmed 0.2-0-8-0.