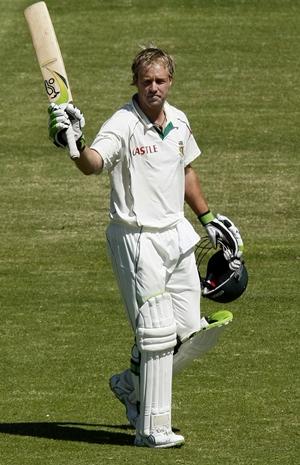 Some remember him for his exploits with Delhi Daredevils in the Indian Premier League. Others recall his majestic 217 not out at the Sardar Patel Stadium in Motera a couple of years back
But fact remains that AB de Villiers's belligerent batting is still afresh in the minds of many Indian cricket aficionados. The South African, 13 days short of his 26th birthday, cherishes playing on Indian wickets and is back for some more action.
Ask what works for him on the subcontinent wickets and the reply is straightforward.
"You just have to worry about your own game," he says.
"At least, that is what I do. I apply certain things to my game when I am playing here and so far they have worked well for me. To adjust yourself mentally is also important," he adds.
The South African also admits that his double hundred at Motera -- the first by a South African against India was a breakthrough effort.
"I think so," he admits, before adding, "We had played Pakistan and Bangladesh prior to that and I felt I was ready for a breakthrough. But I didn't know that it would happen in India.
"It was a knock where I showed I can play a long innings. I had worked with Jacques Kallis in the pre-season and that helped," he confessed, palpably referring to the 256 runs partnership for fifth wicket that helped seal India's fate in that match.
Now that De Villiers is back on Indian soil, he is aware that the upcoming series assumes greater significance considering it is a battle for the top ranking as well.
But the South African is dismissive of the same. 
"It [the ranking] is not a massive thing for us," he explains. "It's nice to be No 1 but we have our own goals. We are still a good side, but have lost a bit of vision in the last year or so.
"Not winning against England at home, despite having dominated in three Tests, was a failure for us. However, we are definitely going to fight and try to get back the top spot," he adds.
De Villiers is also quick to dismiss any implication whatsoever of Mickey Arthur's resignation as coach days before the commencement of the trip to India.
"After five successful years, Mickey had to move on," he justifies.
"But things haven't changed much since. We still follow the same procedure and Corrie (van Zyl) has been a part of our system for quite some time."
The discussion then veers towards the Indian team and the key players that the home side will be missing in the Test series. And De Villiers is quick to point out a crucial name missing from India's line-up.
"I think Rahul Dravid's non-availability is a big blow for India," he points out, before going on to explain.
"Among all the batting positions, No 3 spot is the biggest, and Rahul, on many occasions, came in to bat under pressure. To lose him is as massive as we losing Kallis (though we can't really compare both)."
However, De Villiers also admits that it is Virender Sehwag who is worrying the South African think-tank the most.
"I learnt quite a lot about his (Sehwag's) game while playing alongside him in the IPL. But there's really nothing to get him out of his gameplan," he admits. "Sehwag is going to play his natural game and our bowlers will have to bowl well to get him out.
"However, just watching how he prepares has been very helpful for my game as well."