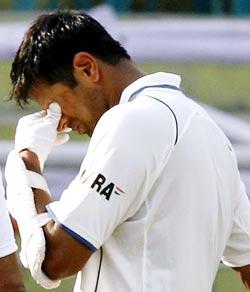 India batsman Rahul Dravid was on Monday hospitalised in Dhaka after being struck on his face by a bouncer from Bangladesh pacer Shahadat Hossain during day two of the second and final Test.
The 37-year-old has fractured his jaw and has been kept in the Intensive Care Unit (ICU) under observation as a precautionary measure at the Square Hospital in Dhaka.
It has also been reported that the right-hander would take no further part in the Test match and return home on Tuesday.
Dravid was batting on 111 when he tried to duck under a bouncer from Shahadat but the ball didn't bounce as high as he expected and struck him on the left side of the helmet near the ear guard. The former India captain was immediately seen wincing with pain before he retired hurt and headed straight to the hospital.