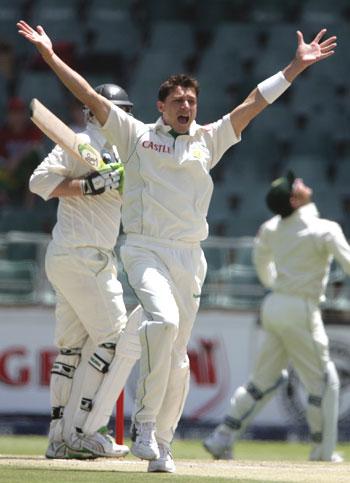 He was ripped apart by Virender Sehwag and company in the opening Test in Chennai. Despite polishing the tail to finish with four wickets he largely struggled on a flat wicket.
Things changed for better though in the next Test at Ahmedabad. Eight wickets in the match -– including a five for 23 in the first innings -– ensured his side a comprehensive win and him the man-of-the-match award.
And three further wickets in the third Test at Kanpur helped him finish the series with 15 wickets even though South Africa lost the match and could only square the series.
Two years on, Steyn is back, on this occasion looking to finish the unfinished business (win the series).
The 26-year-old also happens to be a man on form -– his 15 wickets in the just concluded series against England, including a five or 51 that ensured South Africa a series-leveling win at Wanderers -– is a testimony to that.
Relishing his new role as a spearhead, the fast bowler is keen to help his team win their first series on Indian soil in more than a decade and retain their top spot in the ICC Test rankings.
Special Correspondent Bikash Mohapatra keeps his ears open as Steyn talks about bowling in India, being the best bowler and leading his side pace attack. Excerpts
Do you think the absence of key Indian players like Rahul Dravid, Yuvraj Singh or for that matter even VVS Laxman makes it advantage South Africa going into the series?
I guess you can say yes. The absence of guys like Rahul, Yuvraj, players with lots of experience will obviously affect India.
But whenever you need to replace guys with such good average, you do so with equally important guys *(at least, that is what we do in South Africa).
So whoever steps in for them I believe has definitely shown his worth at the lower level -- at the franchise level, the domestic competitions or even the IPL. And he steps into these big shoes knowing he is capable of playing at the highest level.
Which Indian batsman is going to be your main target in the upcoming series?
You mean Virender Sehwag. (Smiles)
I would say no specific player is a target. I think all eleven players (from No. 1 to No.11) are important. I've said this before that in Test cricket you can't take any wicket for granted.
For instance, somebody like a Sehwag or anyone from the middle order, say Tendulkar is batting with a No. 10 or 11 batsman, rotating strike and facing about four or five deliveries an over, then it makes it difficult for us to get that tail ender out. So every wicket is important.
But Sehwag certainly is the most important wicket?
Bowling to Sehwag is definitely a challenge. You can never contain a player like him. Our plan is not to let him get going. He showed us in Chennai (during South Africa's last tour to India in 2008) that he can bat really good on flat wickets.
But once we exploited his biggest weaknesses I don't think he was able to get away after that. So I would say we definitely have our game plans against somebody like him. What has happened in the past has happened. This is a new tour and we have our plans ready to tackle him.
In fact we have plans for all the batters, and for every situation. I won't single out Sehwag because Tendulkar is also a marvelous player with a great record. So Sehwag isn't the only big player in this Indian side.
Reflecting back on the last tour what do you think changed for South Africa from Chennai (a vapid draw) to Ahmedabad (a resounding win) besides the wickets?
It was definitely not the pitches. I guess it was the mind frame that we got into. I am not going give everything away now because we have sill got to play on this tour.
But come day one of this tour, whether we are batting or bowling, you can see what we have in store.
As regards the result, we can only prepare well and see what happens then, what fate has in store for us.
Do you think a wicket like the one in Kanpur last time around can actually work to your advantage on this tour?
I don't want to dwell on what happened at Kanpur the last time we were here. I would like to believe that both sides had even chances in that game. India had taken a risk that paid off for them when it could have easily gone against them. *
As regards the wickets, we are prepared for the most difficult conditions and we expect them because if it would have been easy everybody would be playing Test cricket.
The challenge is to find out who you are, how far can you stretch yourself and how good are you for five days against some of the best players in different conditions. That's Test cricket and I am happy to be playing it.
What do you think is the most essential pre-requisite while bowling on Indian conditions?
The biggest thing about bowling on India wickets is you have to hit the deck hard.
The bitter truth is that we are not going to get the movement and bounce that we get at the Wanderers -– where we recently played and beat England.
However, the aggression and the way that you bowl shouldn't change. The bowler's attitude towards the game, to each and every delivery that he bowls shouldn't change at all, regardless of the pitch on which he bowls.
I have said this many times before but a yorker coming at 145kph or 150kph that you bowl here at Nagpur isn't any different from the one you bowl at Chennai, Johannesburg or for that matter even Perth.
It's the effect behind the delivery, the skill employed and the planning that counts eventually.
And how crucial is to get the ball to reverse on conditions like this?
I think reverse swing is a massive thing. It plays a big role in conditions prevalent here and our fast bowlers need to do it as early as possible especially considering the fact that the Indian bowlers, Zaheer Khan in particular, are so good at it.
What role will Wayne Parnell play in this South African bowling set up considering you and Morne (Morkel) share the responsibilities?
He fills in quite nicely into the setup. He did well in his first Test at Johannesburg and if I am correct, India hasn't played left-arm pace bowlers well at all.
Wayne is slow, skiddy, almost a mirror image of myself. He gets good swing, good reverse swing, is quick and has a nasty bouncer.
And it makes it easier for him to play his second Test here easier because he made his debut in a high pressure game at Johannesburg and came through that fantastically well. Besides, he got a good taste of Indian wickets in the recent practice game.
Till recently Makhaya Ntini used to lead the South African attack. Now you have assumed the mantle of the spearhead. How difficult is the new role?
It is important role for sure. But after playing international cricket for five to six years now I believe I can contribute more to this side and am ready for any challenge.
*You have also been ranked the world's No.1 bowler in recent times. How much do these rankings matter? *
It's a great feeling personally. It every kids dream to be the No.1 bowler in the world and when you are playing at your backyard you always strive to be the best. And to get to that level is a fantastic feeling.
But when you walk on to the field, as the holder of the top rank, it doesn't mean anything at the end of day. Off the pitch though it is the satisfaction of a job done and a sense of achievement.
How would you compare India and Australia, South Africa's two biggest rivals in recent years?
We had a great run over a two-year period where we didn't lose a series and played the catching up game well. We got a head start and we on held to that against Australia. India was the only place where we came here wanting to win and we fell short at the last hurdle at Kanpur.
It is something we remember because it hurt us. And we are going to try and fix that up this time. Between India and Australia, the conditions in the latter are similar to those in SA, something we are more familiar with.
And we had never beaten Australia in Australia before our win there last year but we did beat India in India earlier.
Despite performing consistently well the South Africa team fails to deliver when it matters -- the big occasions -- on a regular basis. How disappointing is that?
It is very disappointing. I am not going to dwell on the reasons but we are obviously disappointed.
Statistically speaking, last year we didn't do well in the T20 World Cup or in the Champions Trophy. And that despite playing so well otherwise.
But that kind of stuff goes on. Moreover, we have begun this year on a positive note and have to look ahead positively.