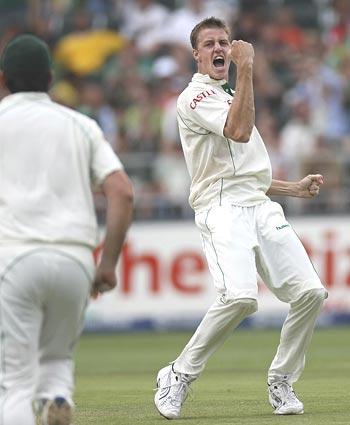 He impressed on his Test debut against India in the Boxing Day Test at Durban (2006), taking three wickets and helping his team win.
On his first trip to India, when South Africa last toured in March 2008, he impressed again, capturing eight wickets in three Tests, a performance he now describes as a "learning curve".
And if his figures (three for 24) in the recent two-day game against the Board President's XI are an indicator, then Morne Morkel should shine with ball again and make life difficult for the hosts.
The 25-year-old is on his second trip to the subcontinent and on this occasion, unlike the previous ones, he comes into the series with an enhanced reputation.
When South Africa recently played hosts to England in a four-Test series, Morkel stood apart by being the home team's highest wicket-taker with 19 wickets, including a majestic five for 75 at Newlands.
The South African pundits in particular and cricket experts in general always had expectations from the tall fast bowler but Morkel hadn't quite lived up to it.
In fact, he was dropped from the squad for the third and final Test against Australia at Newlands (Cape Town) last year having failed to impress selectors despite taking 15 wickets in five Tests.
"Against the Australians I put a lot of pressure on myself. After I got dropped I worked on the mental aspect with Richard Pybus and ensured I came back stronger," explains Morkel, when asked about that phase.
However, the series against England finally helped him prove his worth and allowed him to assume a new role -- as an ideal new-ball partner for Dale Steyn. 
Ask him about this and the reply is on expected lines.
"I have always enjoyed bowling along with Steyn," explains Morkel. "We play for the same franchise team (Nashua Titans) back home and we have been playing so for the past five years. I think we support each other quite well."
So what plans do South Africa's new ball bowlers have in store for the Indian batters in the upcoming series?
"I can't tell you that," smiles Morkel, adding, "else our team meetings would come to a nought."
The 25-year-old, however, is completely aware of the challenges ahead.
"It's not easy to bowl here [India], for sometimes the wickets here behave in an erratic manner. But you have to prepare yourself mentally," he admits.
"The wickets here are conducive for batting and wickets don't come easy here. But from a bowling point of view, we have done well in the final Test (against England) at Johannesburg and the warm-up game here and are looking forward to the challenge of bowling to the likes of (Virender) Sehwag and (Gautam) Gambhir," he adds.
The Indian batsmen's discomfort with the short ball is now an open secret and Morkel admits his team is looking to exploit that weakness.
"To bowl short is one of our strengths and we would be stupid not to use it to intimidate them," he explains.
However, if the South African is to be believed, there are a couple of things that are more important than strategies and pace to get wickets on Indian conditions.
"Patience is the key to getting wickets in India," observes Morkel. "For when a batsman like Sehwag gets going you can't really contain him. So the main thing is to stay patient and continue doing what you believe is right," he adds.
And in conditions not too conducive for fast bowling, Morkel believes it is reverse swing that will do the trick.
"In India there's not much seem movement anyways," he explains, adding, "so I think the main thing for both the teams will be to get the ball to reverse."