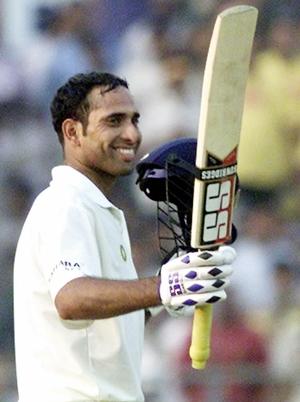 VVS Laxman's love affair with Eden Gardens keeps growing.
Back from an injury lay-off, the 35-year-old batting ace treated his beloved Kolkata fans to another wonderful exhibition of skillful batting that gave India a vice-like grip on day three of the second and final Test against South Africa, in Kolkata, on Tuesday.
The historic venue is without doubt one of Laxman's favourite hunting grounds. He now has over a thousand runs from nine matches at the venue, including four centuries and three fifties, at a Bradmanesque average of 94.
Thus, it wasn't surprising that he was quick to reiterate that Eden holds a special place in his heart.
"It feels really good to play at Eden Gardens, because I have always enjoyed playing on this ground. The people of Kolkata are so warm and I always love coming to Kolkata. I am glad I was able to maintain the record this time around too.
"As I mentioned, playing at Eden Gardens is a great feeling, and getting 1000 runs at the venue will always remain special," Laxman said, after his fluent knock of 143 helped India pile mammoth 643 for six declared in their first innings.
He made no bones about coming up with his best in Indian whites.
"For me, always, Test cricket is very, very important and representing the country was a great motivation for me right from my younger days.
"I am really glad that I am playing Test cricket for the country and consistently doing well. So I don't really miss playing in One-dayers and Twenty20. I am quite happy that I am an important member of the Test team and performing consistently for the team in Test matches," he said.
Few will forget Laxman's magical innings of 281 at the same ground against the all-conquering Australians in 2001. India won that match against all odds, after being asked to follow-on. That knock changed the fortunes of Indian cricket in many ways.
Asked how he is able to deliver every time the team is in dire straits, he replied: "It always gives you a lot of satisfaction when you perform and when you contribute to the team. I always enjoy, especially when the tough situations are there. I like to go out and deliver for my team. This morning it was crucial because we had lost three quick wickets yesterday evening. I really feel happy whenever I do well and bail the team out of tough situations."
Laxman believes that there are a lot of young players who have the potential to break into the Test side.
"I think you need to be very patient. It is just a phase; once you settle down, it is about the mental transition from domestic cricket to international cricket. I am sure we got the potential and talent in our youngsters and they can deliver and win Test matches as well. They are already doing it in One-Day cricket and I don't see why they can't in Test cricket.
"Every youngster who plays for the country knows the responsibility of performing and consistently delivering for the team. It is just about applying themselves. It is just about the mental transition from domestic cricket to Test cricket and once they get through that phase I am sure that they can do well; we have a lot of youngsters who can do well for the country in the future," he said.
He also revealed how the Indian team bounced back after the humiliating loss in the first Test at Nagpur.
"As a team we were quite positive when we went into the Test match. Yes, everyone was disappointed with the way we lost the Test in Nagpur, and we just regrouped; we just wanted to go and do the good things over the last two years and that is what we did.
"It was very important that we scored a lot of runs in the first innings to put the pressure on South Africans and that is what we did," the Hyderabadi batsman said.
Asked how he was able to make such a dashing comeback after his injury lay-off, which saw him miss India's last two Tests, he replied: "Luckily I was training well in Nagpur or even before the Test series. [The team's fitness trainer] Ramji [Srinivasan] was really good as far as the fitness was concerned and also the last three days of the Nagpur Test I had three long net sessions and also batted for a long time using the bowling machine. So I was pretty confident when I came into the Test match."
The right-hander believes South Africa will provide a stiff fight in the remaining two days and victory won't come that easily.
"There will be a tough fight from the South Africans, without a doubt. They are one of the best sides in world cricket. But having said that, we are very confident that our bowling will deliver the goods again, like they did on the first day. We are not looking to finish off things tomorrow because we have two days to go. So we have got enough time to bowl them out."
Laxman feels the pitch has deteriorated enough and playing the spinners on the last two days will not be easy.
 "The pitch is deteriorating, so there will be a lot of assistance to the spinners, without doubt. I am sure that the quality of spinners we have got we will definitely exploit that. The wicket is definitely slow. Any Indian track on the fourth and fifth day, it will become slow. But, definitely, there is help for the spinners and that is very encouraging if you are bowling from the far end," he added.
The stylish batsman also used the occasion to thank his wife, Sailaja. Informing that today is his sixth wedding anniversary, he went on to dedicate his hundred to her and the kids, Sarvajit and Achintya.
"Today is my marriage anniversary and it is great that my wife and kids gave me a surprise by coming to Kolkata. So, definitely, I would like to dedicate this to my wife, because she has been a pillar of strength to me and my family. It is tough being the wife of a cricketer, because we are always on the road," he concluded.