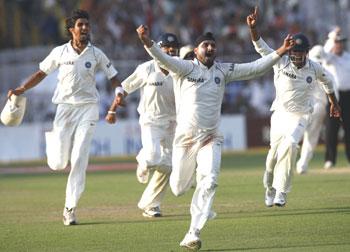 India retained the No 1 position in the Reliance Mobile ICC Test Championship after beating South Africa by an innings and 57 runs in the second Test at the Eden Gardens in Kolkata on Thursday. The victory enabled them draw the series 1-1.
India were in serious danger of losing the top spot after South Africa won the Nagpur Test last week and then bad weather on Wednesday allowed only 31 overs of play on the penultimate day of the second Test.
However, Harbhajan Singh took 5-59 and Amit Mishra bagged 3-78 as South Africa were dismissed for 290 despite a fighting 123 not out by Hashim Amla, his second century of the Test.
The series result means that the pre-series status quo in terms of positions on the table is maintained, though India slipped to 124 ratings points after conceding a ratings point, while South Africa stay second on 120 ratings points.
Team India to pocket US $175,000
Mahendra Singh Dhoni's side will not only retain the mace, which it received after defeating Sri Lanka last year in December, but will also pocket a cheque for US $175,000, which is presented to the side that reaches the April 1 cut-off date in top spot.
Although Bangladesh will host England for a two-Test series, and Australia travels to New Zealand, also for a two-Test series, before the cut-off date, the situation at the top of the table is such that none of the four teams, no matter what the outcome of their respective series, is capable of snatching the top spot from India.
It is the first time India has topped the log at the annual cut-off date since the rankings were introduced in June 2003. In 2008, they  finished second and were placed third in 2005 and 2006, fourth in 2007 and sixth in 2004.
While it was all smiles for Dhoni's side, which also ended Australia's seven-year run of finishing on top spot at the annual cut-off date, it was another heartbreak for Graeme Smith's side, which once again came agonisingly close to achieving the top spot but forced to settle for a US $75,000 cheque, which is presented to the side that finishes second.
Last year too, the Proteas needed a series win to finish at the top of the Test table at the April 1 cut-off date, but they lost the home series to Australia 2-1 and finished nine ratings points behind Ricky Ponting's side.