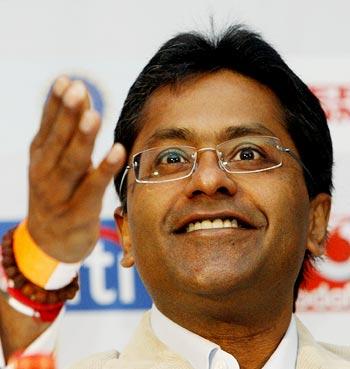 The Indian Premier League (IPL) will not move out of India despite security fears raised by the players' associations of England, Australia and South Africa, tournament commissioner Lalit Modi insisted.
Modi rejected any move to shift the IPL to another country after an independent report complied by England and Wales Cricket Board (ECB) security advisor Reg Dickason claimed that safety of cricketers cannot be guaranteed during the cash-awash Twenty20 tournament.
"We are going to have the tournament in India. I can't see any reason why we should move it at this point in time. The media is reacting to every fringe group saying security is a problem," Modi told BBC Sport.
Despite Modi's assurances on security, Australian players have not yet committed their participation in the third season of the IPL until the issues raised in the report are addressed.
Modi, however, said that the organisers are doing everything possible to ensure the safety of players during the tournament starting on March 12.
"Nobody in the world can safeguard the safety of the players in any tournament. All we have to do is ensure we are putting on the best security. Safety is paramount to us and we are working with the national and state governments to ensure we have good security in place.
"It is being discussed and upgraded on daily basis with all key stakeholders. We will continue that. At the end of day we have to ensure the safety plans we put in place and the way we conduct them are absolutely top notch," he said.
The IPL chief made it clear that the third edition of the Twenty20 event would not be affected much if a few foreign players decide to skip it on security grounds.
"The tournament is a huge success - we have a huge credibility, we have the top 200 players in the world. The heavens aren't going to fall if that happens.
"This is an Indian tournament, we have the key Indian players and only a few international players. We have no worries at all. You have to understand that the market for us is India. It's not only dependent on foreign players, although they are part of it," Modi said.