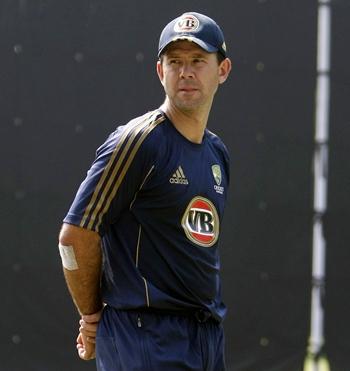 Australian cricketers, who stand to lose millions of dollars if they don't participate in the Indian Premier League, clashed with skipper Ricky Ponting during the meeting held at a Sydney hotel to brief them about security during the Twenty20 tournament. 
Conflict over whether to attend next month's IPL tournament saw Australian players attacking each other during a security briefing.
The Australian reports that there is a split among the freelance former Test cricketers who want to attend and Cricket Australia-contracted players who want everybody to work as one on the issue.
It is understood that players like Shane Warne, Matthew Hayden and Adam Gilchrist clashed with Ponting during the meeting.
The players have been advised that the current arrangements are not satisfactory, following legitimate threats from an organisation called the 313 Brigade.
The situation is almost certain to result in a showdown between the players' associations and the IPL, but insiders are suggesting it will be individual players who blink first and solidarity will be lost.
Anyone who boycotts will almost certainly be barred from future tournaments and players such as Lee, Warne, Gilchrist, Hayden, Dirk Nannes and Brad Hodge stand to lose millions of dollars.
Younger players with Cricket Australia contracts might not feel the same compulsion.
Australian Cricketers Association chief executive Paul Marsh was asked if the players would stick together once a decision was made.
"That's something we are still working through, it's the way we have operated in the past and I guess we have a couple of weeks to work through that," he said.
The Australian players were presented the report prepared by security consultant Reg Dickason.