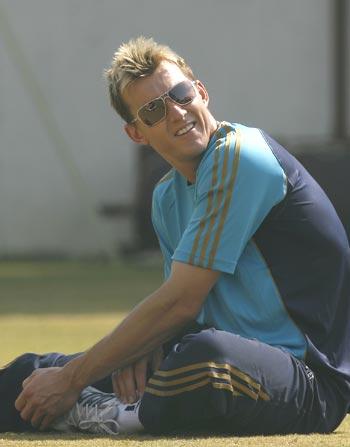 Australian Brett Lee, one of the fastest bowlers of the modern era, announced his retirement from Test cricket on Wednesday with the aim of extending his international career in shorter forms of the game.
The 33-year-old Lee made his debut in 1999 and racked up 310 wickets at 30.81 in 76 Tests, the fourth highest Australian wicket-taker of all time behind Shane Warne, Glenn McGrath and Dennis Lillee.
"It's not the finish or the end of me. I do have a lot more cricket left in me. Test cricket has to go in order to prolong my one-day cricket for Australia," he told a media conference at the Sydney Cricket Ground.
Lee played his last Test for his country against South Africa in late 2008 and has since struggled with foot, side and ankle injuries, with the side strain robbing him of the chance to take part in last year's Ashes series against England.
"This hasn't happened overnight, it's been a long, long process," Lee said.
"My reason for retiring from this form of the game is so that I can preserve my body and continue to represent my country in the other forms of the game," he added. 
Lillee, a fellow fast bowler, was in no doubt Lee would be remembered as one of the greats of the game.
"Brett is going to go down as one of the great all time express bowlers in the world," he said.
"I congratulate him on a magnificent Test career. I have known him since he was 16 and he was a fantastic bloke then and he is a fantastic bloke today," he added. 
ULTIMATE TEST
Lee, who took 5-47 on his debut at the Melbourne Cricket Ground against India, said Test cricket remained the ultimate form of the game for top cricketers.
"I am extremely proud to have played Test cricket for Australia," he said.
"Obviously, there's specialist one-day and Twenty20 bowlers but for me, Test cricket is where it's at.
"There's a lot of luck in Twenty20, a lot of skill and a bit of luck in One-dayers. But Test cricket is a test for the bowlers and a test for the batsman," he added. 
Lee, who has played 186 One-day Internationals since his first match in 2000 and helped Australia win the 2003 World Cup, said he hoped to take part in this year's Twenty20 World Cup in West Indies and the one-day World Cup in Asia next year.
Australia captain Ricky Ponting, who sat beside his team-mate at the news conference, also said Lee deserved to be remembered as one of his country's great cricketers.
"If we all just take a minute and think about what he's put himself through in that 10 or 12 years -- running 35 metres to bowl every ball, bowling every ball at close to 150kph, and putting his heart on the line every ball he bowls," he said.
"I think this bloke deserves a massive pat on the back," he added.