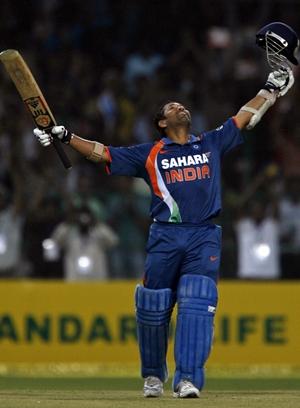 India's iconic batsman Sachin Tendulkar has jumped to third position in the Reliance Mobile ICC Player Rankings for ODI batsmen after belting a record-breaking double-century in the second One-Day International against South Africa in Gwalior on Wednesday.
Tendulkar, who returned undefeated on 200 in his 442nd appearance, has lifted three places and now trails second-placed Mike Hussey of Australia by 43 points with India captain Mahendra Singh Dhoni strengthening his position at the top of the rankings after hitting a 35-ball 68 not out.
It is Tendulkar's highest ranking in two years after he had reached second position following an unbeaten 117 against Australia in Sydney.
While Tendulkar has vaulted into third position, his fellow opener Virender Sehwag has dropped one place to 10th position.
Yuvraj Singh and Gautam Gambhir have also slipped in the latest rankings after missing the two ODIs due to injuries. A player loses one per cent of his ratings points for every match missed and as such, Yuvraj has fallen one place to 13th spot while Gambhir has dropped two places to 21st spot, a position he shares with team mate Virat Kohli.
AB de Villiers remains South Africa's highest-ranked batsman in fourth position after stroking an unbeaten 114 in Gwalior. Jacques Kallis has retained his 11th position but Herschelle Gibbs has slipped one place to 16th spot.
In the ICC Player Rankings for ODI bowlers, Dale Steyn has slipped two places to 13th spot after Tendulkar's Gwalior onslaught. New Zealand captain Daniel Vettori leads the bowling table with Zimbabwe's Ray Price in second position.
Meanwhile, Bangladesh hosts England in the three-ODI series from Sunday with Paul Collingwood well-placed to break into the top 10. Collingwood currently sits in 14th position but trails ninth-placed Kumar Sangakkara of Sri Lanka by 23 points. A good performance with the bat in the series can potentially put him in the top 10.
Like Collingwood, Kevin Pietersen will also be eyeing a return to the top 20. The Hampshire batsman is in 23rd spot and trails 17th-placed Mohammad Yousuf of Pakistan by 20 points.
For Bangladesh, Shakib Al Hasan is the highest-ranked batsman in 28th spot while Tamim Iqbal is in 34th position.
Shakib is also the highest-ranked bowler from either side in third position while Stuart Broad is the highest-ranked England bowler in seventh spot.
In the ICC ODI Championship, India has all but cemented second position after taking an unassailable 2-0 lead. It is now on 123 ratings points while South Africa has slipped to 115 ratings points.
The only way India can finish third at the annual cut-off date of 1 April is if it loses Saturday's match and New Zealand makes a clean sweep of the five-ODI series against Australia starting in Napier on 3 March. In that scenario, New Zealand will jump to 123 ratings points while India will finish on 122 ratings points.
On the other side of the coin, if India wins on Saturday then irrespective of how New Zealand and Australia series pans out, India will finish second on 124 ratings points.
Australia has already sealed the number-one position with 134 ratings points and can only drop to as low as 128 ratings points if it loses all the five ODI against New Zealand.
As regards Bangladesh and England series, if England wins all the three matches it will earn one ratings point but will conceded seven ratings points if it loses every match in the series.
If England wins the series 2-1, it will swap places with Sri Lanka which is currently in sixth position but will join seventh-placed Pakistan on 104 ratings points if it loses the series 2-1. However, England will be placed higher when the ratings are calculated beyond the decimal point.