Shahid Afridi cannot wait to return to the Indian Premier League and given a choice, the flamboyant Pakistani all-rounder would like to represent either Rajasthan Royals or Kolkata Knight Riders in the cash-awash Twenty20 tournament this year.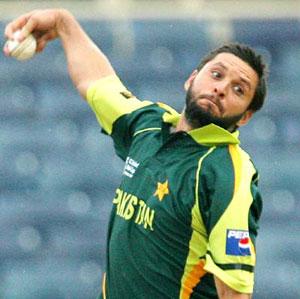 "There are a number of franchises that would interest me in the next season of IPL and let's wait and see what happens at the all important auction," Afridi told PakPassion.net.
"But my preferred destinations would be either the Rajasthan Royals or Kolkata Knight Riders," said the Pakistani Twenty20 captain.
Afridi represented Deccan Chargers in the inaugural IPL even though the hard-hitter proved a disappointment in an outfit which finished at the bottom of the chart.
The Pakistani all-rounder, who made an immediate mark representing South Australia in the Twenty20 Big Bash in Melbourne hoped his performance would boost his IPL prospects.
"The Big Bash is going live to India so it's a great opportunity for those players in the IPL player list to show potential bidders what they can do for their teams," he said.
Thoroughly enjoying his stint here, Afridi said, "We've got a great bunch of lads at South Australia. The morale of the team is high and everyone is working hard and backing each other. The weather is fantastic and I'm staying in a lovely apartment with (West Indian) Kieron Pollard," he said.