- Scorecard: India vs Bangladesh, 3rd ODI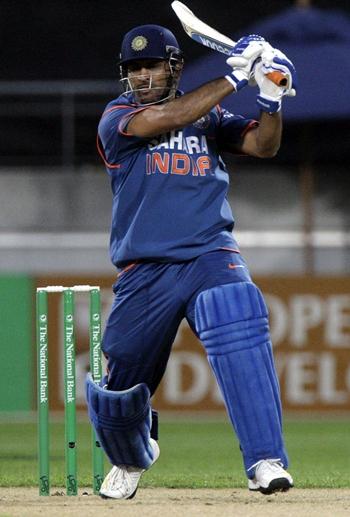 Mahendra Singh Dhoni led from the front with an unbeaten century to carry India to a comfortable six-wicket victory over Bangladesh in the third One-Day International of the Tri-Nation Tournament in Dhaka, on Thursday.
India's captain again rose to the occasion with a composed innings of 101 from 107 deliveries, laced with nine boundaries, to help the team cruise to 297 for four in 47.3 overs and win with 15 deliveries to spare.
Suresh Raina hastened victory with a quick innings of 51 from 43 deliveries, adding 94 runs from 75 deliveries for the fourth wicket with Dhoni.
Dhoni never flustered even once during the run chase despite India being under early pressure after losing three early wickets. He added 152 runs for the fourth wicket with young Kohli, who also continued his good run with a brisk innings of 91 from 102 deliveries before he was caught and bowled by Shakib Al Hasan.
Earlier, half-centuries from openers Tamim Iqbal, Imrul Kayes and M Mahmudullah powered Bangladesh to a huge 296 for six. M Mahmudullah finished things in grand style with a blazing innings of 60 not out from 45 deliveries, laced with eight boundaries, as Bangladesh posted their highest ever total against a Test-playing nation.
Tamim Iqbal had given the hosts a flying start before hitting ten boundaries and a six during his knock of 60 from 42 deliveries.
Imrul Kayes blossomed after a slow start to score 70 from 100 deliveries, inclusive of five boundaries and a six.
All the India frontline bowlers disappointed, but Yuvraj Singh came to the team's rescue with an impressive spell of one for 33 in ten overs. The Indian fielding was once again poor, as a few catches were put down, and the less said about the ground fielding the better.
Bangladesh:
Tamim Iqbal was gifted a boundary to begin with as Ashish Nehra failed to stop a simple drive hit back at him in the first over of the match. Nehra then obliged Bangladesh yet again in his next over when he overstepped and the resultant free hit was despatched for a six over midwicket by Iqbal.
While Sreesanth came up with two good overs at the start, Nehra struggled, with Iqbal hitting him for back-to-back boundaries in his third over. In the same over, Imrul Kayes (3) got a lifeline when Harbhajan Singh dropped a regulation high catch at square leg off his top edge on an attempted pull shot.
Iqbal kept growing in confidence as he hit Sreesanth for two more boundaries, over mid-on and through fine leg, as Bangladesh reached 38 for no loss after six overs.
The left-hander brought back memories of the 2003 World Cup when his quickfire knock at the top saw the minnows stun India. He showed scant respect to senior bowler Zaheer Khan as he charged down the wicket and lofted the left-armer over wide mid-on for a boundary in the seventh over.
With the Bangladesh openers threatening to run away with the game at 47 for no loss in seven overs, captain Dhoni was forced to introduce Harbhajan early. But even the experienced spinner struggled and was hit for a boundary in his first over when Iqbal swept him through fine leg for his seventh boundary of the innings.
Iqbal completed his half-century off just 33 deliveries with a single on the leg side in the ninth over by Zaheer. The left-hander continued his good run against the Indian team as he registered his third half-century in six innings against them.
Harbhajan continued to suffer as Iqbal slammed him for another couple of boundaries in the next over as Bangladesh raced to 73 after ten overs.
Iqbal was finally dismissed after a cracking innings of 60 from 42 deliveries, when he was neatly held by Gambhir at midwicket off Sreesanth. The left-hander had given Bangladesh a good platform, hitting 10 boundaries and a six in his 42-ball knock during his 80-run opening partnership with Kayes. (80-1, 11)
That wicket saw India take the Bowling Powerplay but Bangladesh continued to score at a fair rate, as they hit 25 runs from those five overs to reach 105 for one after 16 overs.
Harbhajan's first spell was way below par as he went for 31 runs in five overs, including four boundaries, before he gave way to part-time spinners. After a quiet start, Mohammad Ashraful looked to up the ante and hit Ravindra Jadeja for boundaries in consecutive overs as Bangladesh reached 122 for one after 20.
Kayes brought up his maiden half-century off 80 deliveries with a single on the leg side against Jadeja in the 28th over.
In the same over, Bangladesh lost a wicket against the run of play when Ashraful was bowled by Jadeja as he attempted to run it fine on the off-side. The former Bangladesh captain made 29 from 48 deliveries, adding 68 runs for the second wicket with Kayes to consolidate on the good start. (148-2, 27.5)
Shakib Al Hasan then committed suicide when he was dismissed run-out for a duck, attempting a tight second run. Zaheer caught the Bangladesh captain short of his crease with a direct hit from the long-on region to give India a much-needed wicket. (156-3, 29.3)
Kayes look to maintain the momentum as he gave himself room and lofted Sehwag over the cover region for a six in the 31st over. Raqibul Hasan also wasted no time in hitting his straps as he hit Nehra straight down the ground for a six.
Yuvraj emerged the best of the spinners as he gave just 16 runs in his first six overs without a single boundary, but Harbhajan, bowling flat and quick, was hit for 39 in six overs.
Just when it looked Bangladesh were cruising towards a big total, India struck with the key wicket of Kayes. The left-hander once again top-edged the pull shot off Nehra but this time Virat Kohli held the catch easily. Kayes was dismissed after a good innings of 70, inclusive of five boundaries and a six in his 100-ball knock. (188-4, 34.1)
With all the frontline bowlers struggling to make an impact, Yuvraj heeded to his team's call with a good tight spell. He was rewarded for his controlled line and length bowling when Mushfiqur Rahim chipped one straight to Jadeja and was out for six. (206-5, 37)
Bangladesh were in cruise control for the first 20 overs, scoring 122 for one, but the next 20 overs saw India fight back with regular wickets, as Bangladesh were reduced to 208 for five after 40 overs.
M Mahmudullah then took centre stage to keep Bangladesh in running for the 300-run mark. The right-hander swept Yuvraj for a boundary through square leg, the first boundary against the left-arm spinner in his tenth over. But Yuvraj was easily the best bowler for India as he came up with a good spell of 33 runs in ten overs, while picking a wicket at a time when the other bowlers around him were going for plenty.
Harbhajan continued to disappoint in the field when he misjudged another easy catch at long-off. Raqibul chipped Sreesanth straight down the ground but Harbhajan reacted late and didn't quite reach it and ended up conceding three runs.
Harbhajan finally had something to cheer about when he bowled Raqibul for 32 with a quicker delivery as the batsman attempted to play the reverse sweep. (238-5, 44.1)
With Bangladesh not taking the Batting Powerplay till the 45th over, India had to bowl the last five overs with the fielding restrictions. Mahmudullah started off things nicely hitting Jadeja for consecutive boundaries as Bangladesh looked to step on the accelerator in the last few overs.
Mahmudullah kept the scoreboard moving as he pulled a short delivery from Zaheer for a boundary as Bangladesh scored 24 runs from the first two overs of the Powerplay to take the score to 266 for six after 47 overs.
Mahmudullah brought up his half-century from just 40 deliveries in the final over from Sreesanth when a misfield from Nehra at midwicket gifted him a boundary. The very next delivery he despatched a full toss from Sreesanth through the same area for the same result and Mahmudullah then made it three boundaries in a row when he lofted one over the covers.
Mahmudullah finished unbeaten on a fabulous innings of 60 from 45 deliveries, laced with eight boundaries, to help Bangladesh post a mammoth 296 for six in their 50 overs.
Bangladesh's ploy of keeping the Batting Powerplay for the last five overs worked to perfection as they hammered 54 runs, having hit seven boundaries, as all the Indian bowlers suffered.
Harbhajan was the biggest disappointment for India, claiming one for 56 in nine overs, while the pacers Nehra (one for 44 in six overs), Sreesanth (one for 54 in eight overs) and Zaheer (0 for 43 in six overs) all struggled to make an impact. The bowlers were also guilty of giving away 17 wides and four no-balls while the fielding standard was also horrible.
India:
Gautam Gambhir helped himself to a boundary through fine leg off the second ball of the innings as Syed Rasel drifted on the batsman's pads. Virender Sehwag's first delivery was a free hit but he hit it straight to the fielder on the midwicket fence  for only a single.
Interestingly, Bangladesh opened the bowling with a spinner, bringing in left-arm spinner Abdur Razzak from the other end.
Sehwag got the first boundary of the innings when he cut a short wide delivery from Rasel over the point region and followed it up with another one through the same region in the third over.
However, he didn't last long; he was run out for 13 from eight deliveries, attempting to run off a misfield from the bowler Razzak, who recovered well and scored with a direct hit. (28-1, 3.1)
India got things moving in the sixth over with three boundaries off left-arm spinners Razzak. Kohli slammed two through the off-side as the spinner pitched it short and wide, while Gambhir cracked one through the cover region as India reached 46 for one after six overs.
Rubel Hossain struck in his first over when he bowled Gambhir for 18. The left-hander tried to drive a full delivery through the off-side but got an inside edge which crashed into his leg stump as India found themselves in early trouble. (49-2, 7.3)
The biggest blow for India came in the form of Yuvraj Singh, who was bowled through the gate by Syed Rasel for 1 as India were left reeling at 51 for three having lost their top three batsmen within the first nine overs. (51-3, 8.1)
Kohli got his third boundary when he flicked a full delivery from Hossain through midwicket as India reached 58 for three after ten overs.
With the other senior batsmen back in the hut, Dhoni had a lot of responsibility on his shoulders. He got his first boundary courtesy a thick outside edge against Hossain, as the ball flew to the ropes at the third man evading a diving Tamim Iqbal, in the 12th over.
Both Dhoni and Kohli were intent on playing risk-free shots, looking for the quick singles and twos, as India reached 79 for three after 15 overs.
Kohli showed great composure as he brought up his half-century off 66 deliveries with a double on the leg side off Mahmudullah in the 24th over.
Bangladesh, it seemed, were content after picking those three early wickets and waiting for things to happen, as Dhoni and Kohli slowly but surely played themselves in. Dhoni was beginning to open up; he hooked a short delivery from Hossain through the square leg for a boundary to take India to 145 for three after 27 overs. He completed his half-century off 59 deliveries with a single off Hossain in the 29th over.
With the outfield getting more damp with every over, the spinners were finding it difficult to grip the ball. Razzak sprayed a few wides down the leg side and was once thrashed through the covers for a boundary by Kohli as India reached 169 for three after 30 overs.
India enjoyed a huge slice of luck when Dhoni, on 61, was dropped by opposite number Al Hasan. He charged down the wicket but failed to get to the pitch of the delivery and hit one straight back to the bowler, Al Hasan, who failed to hold on to the difficult chance in the 33rd over.
In the same over, Kohli went down with cramps and had to call his Delhi team-mate Gambhir as his runner. But his batting was least affected as he swept Razzak fine through the leg side for a boundary to take India to 199 for three after 34 overs, with India needing 98 runs from the last 16 overs.
However, disaster struck when Kohli lobbed one straight back to the bowler Shakib Al Hasan after a splendid innings of 91. The youngster once again delivered under pressure as he hit seven boundaries in his 102-ball knock, adding 152 runs in 26.5 overs for the fourth wicket with Dhoni to bring India back into the contest. (203-4, 35)
Despite that wicket, Bangladesh were unable to stop the flow of boundaries as the bowlers were guilty of bowling it either too wide or too short. Razzak continued to disappoint as he bowled short and wide yet again and Dhoni had no problems in despatching him for a boundary through covers in the 36th over.
Mahmudullah started his new spell with a short delivery and Dhoni promptly despatched it through midwicket for his sixth boundary of the innings.
Suresh Raina also got in the act right from the start and hit boundaries in consecutive overs to take India to 242 for four after 40 overs, 55 more needed from the remaining 60 deliveries.
India opted not to take the Batting Powerplay and were content to take the singles and twos with the field spread out. Even the boundaries kept flowing at regular intervals as the Bangladesh bowlers time and again erred with their line and length.
Dhoni crashed a full delivery from Rasel through the cover region for his seventh boundary to move to 87 as India reached 252 for four after 42 overs, needing 45 from the last eight overs.
The two batsmen brought up their 50-run partnership for the fifth wicket in just 45 deliveries to slowly take India closer to the victory target.
Dhoni guided a wide delivery from Razzak through the vacant third man region for a boundary to move into the 90s. Now 36 more were needed from the remaining 42 deliveries.
Raina made the task easier for India with back-to-back boundaries off Rasel to take India to 271 for four after 44 overs and reduce the equation to 26 needed from 36 deliveries.
With India not having taken the Batting Powerplay earlier, Bangladesh were forced to bowl the last five overs with the fielding restrictions. Raina delivered the killer blow when he pulled a short delivery from Hossain over square leg for a six to make it nine needed from the last three overs.
Dhoni then completed his century with a boundary through fine leg off 106 deliveries in the 48th over, bowled by Rasel. Raina then finished off things in style when he lofted Rasel over the cover region for a boundary to bring up his half-century and also give India a well-deserved six-wicket victory.
Dhoni finished unbeaten on 101 from 107 deliveries and Raina was not out on 51 from 43 deliveries; the two batsmen were involved in an unbroken quick stand of 94 runs in 75 deliveries.
India cruised to 297 for four in 47.3 overs and won by four wickets with 15 deliveries to spare for their first victory in the tournament.
After the three early wickets, the Bangladesh bowlers never really threatened and Dhoni again showed how to bat in a run chase under pressure. The Bangladesh bowling lacked the killer instinct in the middle overs and allowed the match to drift as Dhoni timed the chase to perfection in the company of Kohli and Raina.
Bangladesh's next match is against Sri Lanka on Friday, while India will face-off against the Lankans on Sunday.