- Scorecard: India vs Sri Lanka, 5th ODI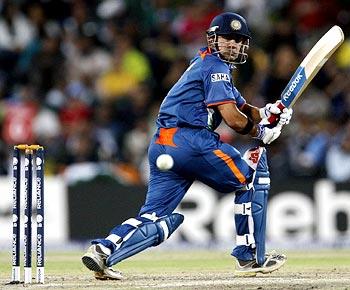 Half-centuries from Virat Kohli and Gautam Gambhir helped India crush Sri Lanka by eight wickets in the fifth One-Day International of the Tri-Nation Tournament in Dhaka, on Sunday.
Kohli was unbeaten after a fine innings of 71 from 68 deliveries, inclusive of nine boundaries, as India finished with 213 for 2 in 32.4 overs for a convincing victory and a bonus point, as they stormed home with 104 deliveries to spare.
Gambhir, dropped twice, shrugged off his recent bad run with a fine innings of 71 from 86 deliveries, laced with ten boundaries, before he was caught by Chanaka Welegedara at mid-on off Thissara Perera.
The left-hander was involved in a 72-run partnership for the second wicket with Delhi team-mate Virat Kohli.
Stand-in opener Dinesh Karthik led the charge with a quickfire 48 from 40 deliveries, laced with nine boundaries. He added 89 runs in 72 deliveries for the opening wicket with Gambhir before he was caught behind by wicketkeeper Kumar Sangakkara off Thilan Thushara in the 12th over.
The victory also ensured India made it to the final, where they will play Sri Lanka. Their last league match against Bangladesh on Monday is inconsequential.
Earlier, Zaheer Khan and Amit Mishra took three wickets each as Sri Lanka were bowled out for a paltry 213 in 46.1 overs.
Electing to bat first, Sri Lanka's top order failed as they were reduced to 84 for six at one stage before Kumar Sangakkara and Suraj Randiv hit half-centuries to take them to a respectable total.
Captain Sangakkara shone amidst the ruins with a brisk knock of 68 from 78 deliveries, including nine boundaries, before he was caught off a top edge at midwicket off Yuvraj Singh.
Khan had crippled the Sri Lankan top order with the wickets of Tillakaratne Dilshan and Mahela Jayawardene in his first spell. The left-arm pacer stuck to a good line and length and was duly rewarded with two wickets for 21 runs, including two maidens, in his first spell of seven overs.
Sangakkara battled hard in the company of Randiv as the duo added 59 runs for the seventh wicket. He was dismissed when he tried to pull a short delivery from Yuvraj Singh but got a top edge and was taken by Suresh Raina at midwicket.
Thilan Thushara made a vital contribution of 28, adding 59 runs for the eighth wicket with Randiv before he was taken by Yuvraj when he top edged a pull shot off Zaheer.
Randiv fell in the next over, bowled by Mishra after a brilliant knock of 56, and Chanaka Welegedara was stumped in the leg-spinner's next over as Sri Lanka folded for 213 in 46.1 overs.
Sri Lanka:
Sudeep Tyagi was given the new ball and he repaid his captain's faith by striking in the first over of the match. Upul Tharanga tried to drive at a wide delivery from the bowler, but edged behind to Dinesh Karthik at first slip and was out for a duck. (0-1, 0.4)
At the other end, Tillakaratne Dilshan, back in the team after recovering from his injury, started off in style, crashing a full delivery from S Sreesanth through covers for a boundary. A couple of deliveries later he bagged his second boundary, hitting hit one straight back past the bowler in the second over.
Dilshan repeated the dose in Tyagi's next over when he hit a couple of boundaries through fine leg and the cover region respectively. Kumar Sangakkara also joined in the party by slamming Sreesanth for back-to-back boundaries through the off-side to take Sri Lanka to 25 for one after four overs.
It kept getting worse for India as Dilshan continued attacking the bowlers with a hat-trick of boundaries against Tyagi in the fifth over. After losing an early wicket, Sri Lanka had fought back in style with a quick counter attack, hitting boundaries at will, to take the score to 38 for one after five overs.
Zaheer Khan then provided India relief when he claimed the wicket of the high-flying Dilshan. The right-hander, who smashed eight boundaries in his 17-ball 33, tried to guide one through the vacant third man region but was caught by Gautam Gambhir in the wide slip region. (42-2, 5.3)
Sangakkara continued the flow of boundaries as he punished the inexperienced Tyagi twice through the off-side in the ninth over of the innings.
But the Indian bowlers kept coming back with wickets. Zaheer dealt Sri Lanka another big blow when he claimed the wicket of the in-form Mahela Jayawardene. The former Sri Lanka captain, who had hit a century in his previous match, drove one straight to Virat Kohli in the short cover region and was dismissed for five. (60-3, 9.1)
Sreesanth, back for his second spell, then caused Sri Lanka more misery when he trapped Thilan Samaraweera leg before wicket for 0. The right-hander walked across his stumps and tried to play one on the leg side but missed the ball and was trapped right in front. (61-4, 10.2)
Sri Lanka also did not help their cause as they gifted India a wicket courtesy a run-out. Sangakkara played one to square leg and set off for a quick run but suddenly decided to turn back. By then it was too late for Thilina Kandamby to return and he was run out for 1. (66-5, 13.5)
Zaheer, who had struggled in the previous two matches, turned out to be a completely different bowler today. He bowled an exemplary spell of five overs during which he took two wickets for nine runs and had two maidens, as Sri Lanka were tottering at 68 for five after 15 overs.
The prevailing situation didn't seem to bother Thissara Perera, who looked to hit Sri Lanka out of trouble. He was lucky to get a lifeline when on 2 as Dhoni failed to hold on to an edge off Amit Mishra in the 17th over. He continued riding his luck as he gave himself room and tried to pull a short delivery from Zaheer but the top edge went over the wicketkeeper for a boundary.
However, Perera's luck finally ran out when he was caught at deep midwicket off Mishra. Perera, who scored 11 from 17 deliveries, tried the slog sweep against Mishra but Yuvraj on the midwicket boundary completed a good catch, running back to his right. (84-6, 18.2)
Sangakkara shone amidst the ruins as he brought up his half-century in style, hitting a short delivery from Ravindra Jadeja through the covers for a boundary. Despite the regular fall of wickets at the other end, Sangakkara scored at a good strike rate as he completed his fifty off 56 deliveries and Sri Lanka reached 117 for six after 24 overs.
Part-timer Yuvraj Singh then made an important contribution when he claimed the wicket of Sangakkara for 68. Sri Lanka'n captain, who hit nine boundaries in his 78-ball knock, tried to pull a short delivery but got a top edge and was taken by Suresh Raina at midwicket. (143-7, 29.4)
Suraj Randiv then frustrated the Indian bowlers with dogged resistance. The right-hander played the singles quite well and also got the odd boundaries when the bowlers erred. He charged down the wicket and lofted Sreesanth over the covers for a boundary to move to 37 as Sri Lanka reached 167 for seven after 35 overs.
At 197 for seven in 43 overs Sri Lanka decided to take the Batting Powerplay and immediately the lower order batsmen, Randiv and Thushara, decided to play some attacking cricket.
Randiv completed his maiden half-century in ODIs with a single to square leg off Zaheer in the 44th over and Thushara drove the next delivery straight down the ground for a boundary.
Thushara made 28 before he top edged a pull shot against Zaheer and was taken by Yuvraj Singh on the off-side. Thushara and Randiv added some respectability to the Sri Lankan total, the two batsmen adding 59 runs for the eighth wicket. (202-8, 43.3)
With just two wickets in hand, Randiv decided to take upon the mantle of hitting some boundaries and lofted Mishra over the covers. However, he fell off the next delivery, beaten by a googly from Mishra and was bowled for a good innings of 56, inclusive of five boundaries in 76 deliveries. (209-9, 44.2)
Mishra polished off the innings when Chanaka Welegedara (1) was stumped by Dhoni trying to swing across the line as Sri Lanka folded for 213 in 46.1 overs.
It was a fine performance from the Indian bowlers, led by Zaheer's brilliant spell of three for 38 in ten overs. Mishra, playing his first game for a while, cleaned up the tailenders to finish with three for 40, while Tyagi, Sreesanth and Yuvraj took a wicket each.
The fielding standard had also gone up a few notches, with good catches taken in the outfield, while the bowlers stuck to their task quite well.
For Sri Lanka, Randiv was the star with the bat; he was involved in two 59-run partnerships that saw Sri Lanka cross the 200-run mark. Sangakkara also made a vital contribution with 68, but messed up right at the start when he elected to bat despite knowing that the dew would play a big part when his bowlers take the field.
India:
Stand-in opener Karthik got the first boundary of the innings when he played the upper cut against Welegedara that flew over the slips in the first over. In the next over, Gambhir cut a short delivery from Suranga Lakmal through the point region for his first boundary.
Karthik helped himself to another couple of boundaries when, in the third over, Welegedara drifted on to his pads as India raced to 22 for no loss after three overs. Gambhir also looked quite confident as he hit boundaries in consecutive overs to take India to 34 for no loss after five overs.
Karthik repeated the dose on the inexperienced Lakmal as he bagged another couple of boundaries as India reached 43 for no loss after six overs.
The boundaries were flowing regularly and the Sri Lankan bowlers didn't help their cause by bowling a few no-balls. After two unsuccessful attempts Karthik finally managed to despatch the third attempt, a free hit, to the boundary to take India past the 50-run mark in the seventh over.
It continued to rain boundaries in the Indian innings as Karthik hit a hat-trick of boundaries in Thilan Thushara's first over. The India openers were in full control as 40 runs came from the last three overs, including eight boundaries, with the scoreboard reading 74 for no loss after eight overs.
With India cruising at 86 for no loss after ten overs, Sri Lanka decided not to take the Bowling Powerplay and brought on off-spinner Suraj Randiv into the attack.
However, it was Thilan Thushara, who made the breakthrough for Sri Lanka, when he claimed the wicket of Karthik for a quick 48. The right-hander hit nine boundaries in his 40-ball knock before he edged an outgoing delivery from Thushara and was neatly held by Sangakkara diving to his right. (89-1, 11.3)
Gambhir, on 41, got a reprieve when Dilshan at the point region dropped a straight forward catch as the left-hander cut a short delivery from Thushara in the 14th over. The Delhi left-hander (43) could not believe his luck when he was dropped yet again in Thushara's next over when he pulled a short delivery, but Thissara Perera dropped the easy offering running in from square leg.
Gambhir and Virat Kohli then decided to settle down and played out a few quiet overs, dealing mostly in singles and twos. But Gambhir was not content with playing the waiting game for long as he charged down the wicket to Lakmal and crashed one through the cover region for a boundary. Three deliveries later, he guided one fine through the third man region for yet another boundary as India reached 152 for one after 26 overs.
Perera provided Sri Lanka some relief when he struck with the wicket of Gambhir for 71. The left-hander tried to drive a full delivery on the leg side but got a leading edge and was taken by Welegedara at mid-on. Gambhir, who hit ten boundaries in his 86-ball knock, set India on the victory path with a 72-run partnership in 17 overs for the second wicket with his Delhi team-mate Kohli. (161-2, 28.3)
Kohli continued to set the tempo after Gambhir's wicket as he hit Perera for back to back boundaries to take India to 171 for two after 29 overs.
The Delhi youngster brought up his half-century off 59 deliveries in some style with a boundary off Perera through covers in the 31st over. Kohli continued his good run with the bat to bring up his fourth half-century in his last five innings.
With India cruising on 185 for two after 31 overs and just 29 needed they decided to speed up things by taking the Batting Powerplay.
Youngster Lakmal suffered when Kohli took him apart in his final over, hitting him for four boundaries for 20 runs in the over to bring India closer.
Yuvraj Singh finished off things with an easy single as India cruised to 214 for two in 32.4 overs to win by a convincing eight-wicket margin with more than 17 overs to spare.
Kohli once again underlined his credentials with a cracking innings of 71 from 68 deliveries, inclusive of nine boundaries. He completely dominated the third wicket partnership of 53 runs in 4.1 overs with Yuvraj, who finished unbeaten on eight from seven deliveries.
Except for Suraj Randiv, who went for 19 runs in six overs and troubled the batsmen a few times, the other Sri Lankan bowlers came up with an ordinary showing.
The victory must serve as a huge morale booster for India, who rested a few key players, ahead of the all-important final against the full strength Sri Lankan team.
The crushing victory also gave them a bonus point and ensured their place in the final, where they will play Sri Lanka. India next play Bangladesh in the consequential last league match in Dhaka on Monday before the final on Wednesday.