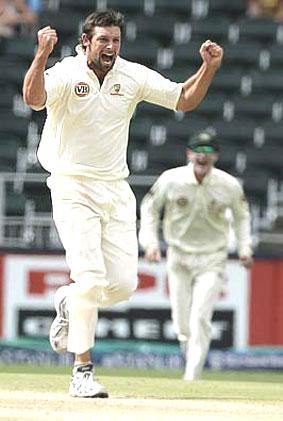 Injured Australian fast bowler Ben Hilfenhaus [ Images ] is taking longer to recuperate than first thought, making him doubtful for Australia's [ Images ] tour of New Zealand [ Images ] starting next month.
Hilfenhaus, who has carried a knee injury through the Ashes and the One-day series in India [ Images ], has not played a Test since the match against West Indies [ Images ] in Brisbane [ Images ] in December 2009.
When asked about Hilfenhaus's injury, Australian team physio Alex Kountouris said the 26-year-old flew to Melbourne [ Images ] to see a knee specialist, and is likely to take at least another month before he gets back to bowling.
"With the injury he's got, you need a longer time frame to get back to bowling," The Herald Sun quoted Kountouris, as saying.
"We are going to hold him off from bowling for at least another three or four weeks and then look at if he can bowl," he added.
Australia will begin their New Zealand campaign with a Twenty20 [ Images ] game on February 28. The first Test begins on March 19.