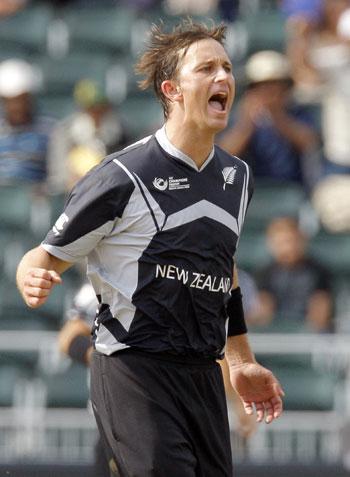 Explosive West Indies all-rounder Kieron Pollard and New Zealand pacer Shane Bond emerged the most expensive players, sold for a whopping US $750,000 (approximately Rs 3.42 crore) at the players' auction for the third edition of the Indian Premier League, in Mumbai on Tuesday.
Pollard, who impressed all with his display in the inaugural Champions League T20 last year, started with a base price of $ 200, 000 while Bond, who was keen to join Chennai Super Kings ahead of the auction, started at $100, 000.
There was a four-way tie between Mumbai Indians, Chennai Super Kings, Royal Challengers Bangalore and Kolkata Knight Riders for Pollard, the Mumbai side eventually winning it via a silent tie-breaker bid, the rule being introduced for the first time in the IPL.
The organizers did not disclose the price of the silent bid, with IPL chairman Lalit Modi saying that the information would be confined to the bidders.
Like Pollard, a keen tussle was witnessed to grab Kiwi pacer Bond. Chennai Super Kings set the pace before it came to a battle between Kolkata Knight Riders and Deccan Chargers -- both quoting $750, 000.
After a tie-breaker, the Kolkata team bagged the former Indian Cricket League player, who has recently announced his retirement from Test cricket to extend his career in the shorter versions of the game.
West Indies pacer Kemar Roach surprised many by becoming the second costliest player, bought by Deccan Chargers for US $720,000, as against a base price of  $100,000).
However, not many were surprised when Delhi Daredevils didn't hesitate paying US $610,000 -- against a base price of US $200,000 - for South Africa all-rounder Wayne Parnell.
Royal Challengers Bangalore made a good addition to their squad, buying England's Eoin Morgan for $220, 000, just $20, 000 more than his base price. That was the only bid they made.
The three players who started the auction with the biggest base price ($250, 000) -- Shahid Afridi, Graeme Swann and Brad Haddin -- remained unsold.
Mohammed Kaif, the only Indian player in the auction, went unsold in the first round but was later bought by Kings XI Punjab for US $250,000. They also recalled South African Yusuf Abdullah.
Meanwhile, the high-profile auction failed to attract any bids whatsoever for Pakistan players, with the franchisees apparently apprehensive of them getting visas. Well, that happens to be the official reason.
Rajasthan Royals bought retired Australian Damien Martyn for US $100,000 apart from securing the services of Adam Voges for US $50,000.
Chennai Super Kings recalled South African Justin Kemp by paying US $100,000 and also bought emerging Sri Lankan batsman Thisara Perera for US $50,000.
In all, 56 players remained unsold out of 67 that went under the hammer.
Three Under-19 Indian players at a fixed price of Rs 800,000 were also in the auction list. Royal Challengers Bangalore chose U-19 skipper Ashok Maneria, Deccan Chargers preferred Harmeet Singh and Mumbai Indians opted for Harshal Patel.
The third edition of the Twenty20 tournament will begin on March 12.