It was a close race to become the most valuable player (MVP) in the tri-nation tournament in Bangladesh. Sri Lanka captain Kumar Sangakkara eventually edged out Virat Kohli to gain the top place.
But Kohli still performed most creditably with an aggregate of 275 runs and a strike rate of 96.5. He must be especially delighted to claim the slot in the ODI team that once belonged to Rahul Dravid -- leaving Rohit Sharma behind.
Yuvraj Singh is third -- curiously enough because of his bowling. He took four wickets in the tri-nation tournament, but with an excellent economy rate of 3.8.
Table 1: The most valuable players in the Bangladesh-India-Sri Lanka Tri-Nation Tournament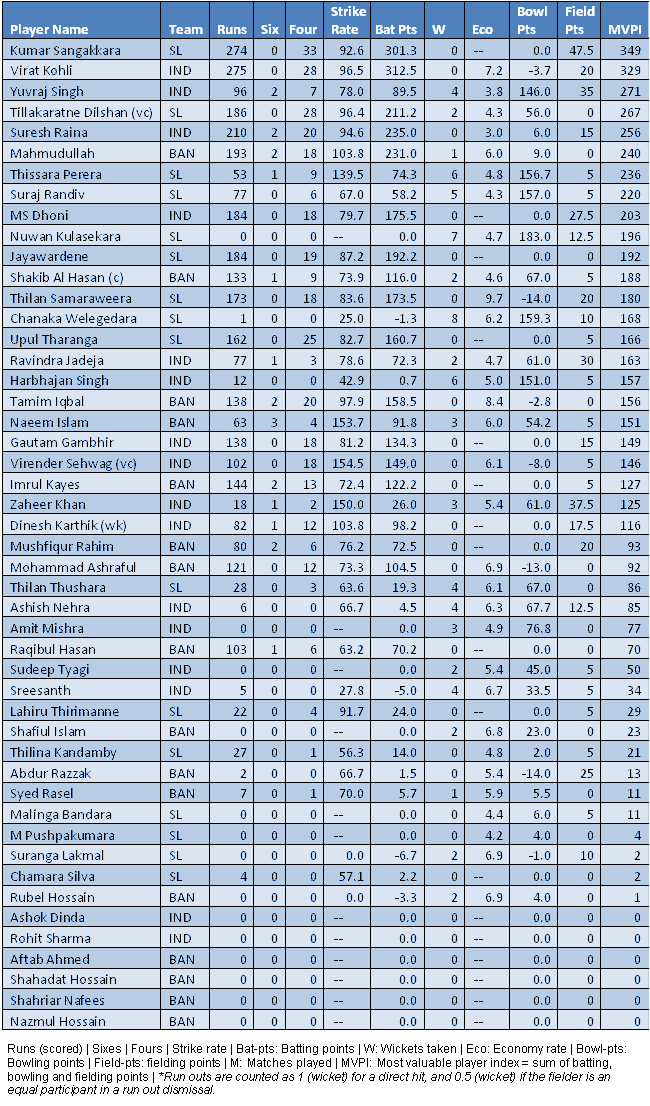 India captain Mahendra Singh Dhoni continues to be India's MVP in the current 2009-10 season. Sachin Tendulkar has fallen behind by a bit by choosing not to play the ODI series.
We have included a new column called Average MVPI (Av MVPI) -- obtained by dividing the MVPI by the number of matches played. Tendulkar's AvMVPI is 53.2, second only to Virat Kohli at 54.5. This leads us to believe that Tendulkar would have been close to the top if he had played more than 15 ODI matches this season.
Table 2: India's most valuable players in the 2009-10 ODI season (25 matches so far)