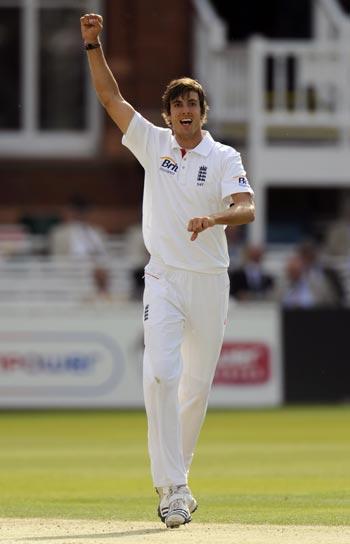 Australian batsman David Warner has branded England 'stupid' for keeping their secret weapon for the Ashes, fast bowler Steven Finn, under wraps during the five-match ODI series between the two sides.
Finn is completing the final stages of a six-week strength and conditioning programme instead of playing for his county Middlesex, but Warner believes that the decision could hit them hard during the Ashes Down Under, which begins in Brisbane in November.
"It's disappointing to see Finny rubbed out for six weeks when he has been bowling so well. England have just stuck him on a weights programme and made him run sprints - I find that pretty stupid," The Sun quoted Warner, as saying.
"They might as well wrap him up in cotton wool. I'm pretty sure he wants to play as well. If you're in form and then get told you're heaving a rest - well, I find it ridiculous what the ECB are doing," he added.
Finn, who was impressive in the debut home Test series against Bangladesh, disappeared from the international stage when the Aussies came in, and he will be out until the Test series against Pakistan, starting on July 29.
Explaining the team's decision, England skipper Andrew Strauss had earlier attributed 'the break' to Finn's 'uninspiring' record in One-Day cricket and also to avoid risk of injury or burnout.
"His record in four-day cricket is better than in One-Day cricket for Middlesex and obviously the workload is an issue as well. The thing with Finny is that he has come in, made an impact and shown what he is capable of," Strauss had said.
"That is exciting, but it is important we allow him a bit of time to develop. We don't need to rush things too much. He's going to have a long career and we will have to manage him to make sure it is a long career and not a short one," he added.