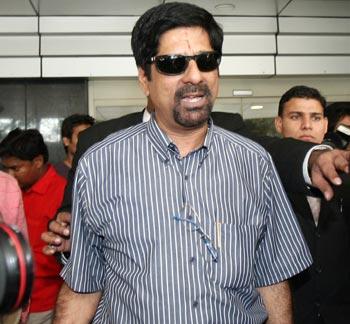 There is no zonal quota system in picking the Indian cricket team and once a player is selected he should be given a long leash to prove his potential, national selection panel chairman Krishnamachari Srikkanth said on Thursday.
The former India opener said the aim of the selectors is to pick the best team and not to accommodate players from different zones.
"We [the selectors] are very clear that there cannot be selection on zonal basis. Our job is to choose the best 15 from anywhere in the country. If there are 11 best players from one city let them play for the country," he said in New Delhi.
He said the selectors will have to trust the players they pick and will have to give them enough time to prove their ability.
"Of course, we pick players who are talented and have the potential. Then we have to keep faith on them and give them security. We have to give them some time to prove their potential. We can't discard them after one or two failures," he said.
"Take the example of Gautam Gambhir. A couple of years back he was very tense before a Test in Bangalore. He must be thinking whether he will play the next game if he fails. I remember telling him he will be selected for the next match or even for the whole series. Now he has not stopped scoring big runs since then," the former captain said.
Srikkanth said a captain must be somebody who motivates his players.
"I believe that a leader is not born. He needs grooming. So what the selectors do is to pick the best players and groom those who can be leaders. He needs to establish himself as a player first and need experience," he said.
"Kapil Dev is an example who can inspire and motivate his players. His inspiring leadership was instrumental in India winning the 1983 World Cup," the former dashing opening batsman said.