Cricket Australia's plan to introduce split-innings One-Dayers in the domestic circuit might trigger a revolt by players, who feel the concept would harm their preparation for next year's World Cup in the sub-continent.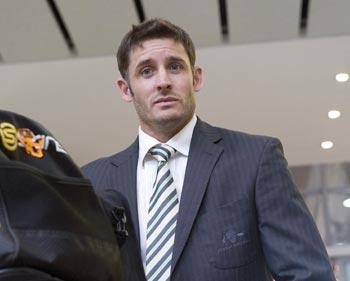 According to a report in The Daily Telegraph, "worried" players have conveyed their concern to CA chief executive James Sutherland.
Senior batsman Michael Hussey said the concept, which might allow teams to nominate a "super-striker" who can bat more than once, could do more harm then good.
"If I'm being honest I don't really agree with it (the super striker concept)," Hussey said.
"I think it could take away certain players from the game. Spinners might go out of the game altogether which I think might be really sad. And I just don't think it's right - it's one of the great challenges about batting.
"You get your chance, if you get out first ball, you want to appreciate your wicket so much ... if you know you've got a second chance, it doesn't sit right with me," he added.
Australia Test captain Ricky Ponting has already voiced his apprehensions on the matter, saying that CA would have a lot of convincing to do as far as the players were concerned.
Hussey said the focus right now is preparation for the World Cup - to be jointly hosted by India, Sri Lanka and Bangladesh - and such a concept could prove to be a distraction.
"We have to be careful we have to make sure we get as many players prepared for the 50-over World Cup in the subcontinent as we can," Hussey warned.
"I'm not sure the timing is great at this time to be trialling stuff like this when we have to try to encourage spinners, we have to try to encourage blokes batting against spin bowling in 50-over cricket, because we are going to get a lot of that in the 50-over World Cup.
"The players will be open to some changes but it's got to be well thought out and well planned and well organised for it to work and for the public to get on board with it as well," he added.