Completely outsmarted by Sri Lanka, Indian skipper Mahendra Singh Dhoni on Thursday admitted that lack of experience in the pace attack and failure to build partnerships proved costly for his team in the opening Test in Galle.
India were without pace duo of Zaheer Khan and S Sreesanth and Dhoni said although the inexperienced seamers -- Ishant Sharma and debutant Abhimanyu Mithun did not fare too badly, the lack of experience showed.
"Looking at the conditions here, I think we lacked experience in bowling. It was a learning experience for the seamers, who did a decent job after the first day," Dhoni said after India succumbed to a 10-wicket defeat. 
"It was not a kind of start that we were looking for. We lasted just three sessions today. But there are some positives. It was good to see the way Mithun bowled and Sehwag also batted well.
"There are plenty of areas to work on. Hopefully we will learn from mistakes and come good in the next match," he said.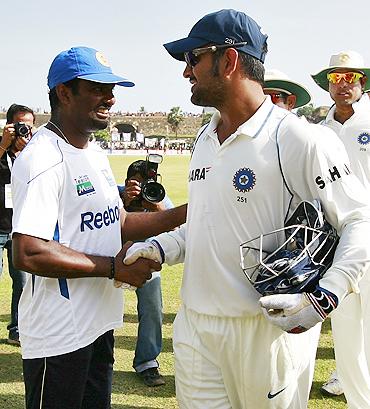 Dhoni described the double blow by Murali in successive deliveries which broke his partnership with Yuvraj Singh in the first innings to be the turning point of the match. 
"I think when we had a partnership going between me and Yuvraj Singh in the first innings, we were in a position to avoid the follow on and after that we could have been in a position where we could have saved the Test match.
"But Murali bowled two good deliveries and got both of us out. With the follow on enforced it was important to keep going and keep batting. Then again when we got some kind of partnership going, Malinga got a couple of wickets. It was very difficult from that point of time. 
"Once you lose your top six or seven batsman and if you don't have too many runs on the board it becomes very difficult to come back into the game," Dhoni explained.
Dhoni admitted that Lasith Malinga and Muttiah Muralitharan were too hot to handle for the Indians. 
"You don't want to give wickets to the best bowlers (Murali and Malinga) of the opponent team. But at times they get the better of you. They bowl beautifully and they put pressure on the batsman and get the batsman out," Dhoni said. 
"See the kind of action Malinga has got and he has got the reverse swing going too. It was not a fresh wicket when they started to bowl. So I think it was quite difficult. 
"I think whenever we had a partnership going the Sri Lankan bowlers came up with a beautiful delivery to get the batsman out. So we were not really able to get the partnership going," he added. 
"The way Malinga bowled, it can be the second or the third spell you cannot say you are set because again you have to start all over again. Normally he brings the ball in to the right handers but in this match we saw he could even take the ball away from the right handers," Dhoni explained. 
Dhoni also took the opportunity to pay glowing tribute to spin wizard Muralitharan, who brought down curtains on his career with a eight-wicket haul to become the highest wicket-taker with 800 scalps.
"I think he did really well. It is not always possible to restrain him. I think he really bowled to get those 8 wickets. And I am really happy that he has got 800 wickets in his Test career," Dhoni said.